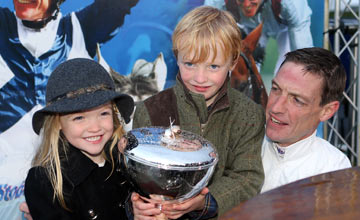 Richard Hughes: celebrates his title with daughter Phoebe and son Harvey
PICTURE:
John Grossick (racingpost.com/photos)
Title winners crowned as season comes to an end
SEVEN-AND-A-BIT months since it started in the snow here at Doncaster, the Flat turf season on Saturday came to an end on a damp, dismal November afternoon.
But Jason Hart could hardly have been prouder. He was also relieved. Out in front in the apprentice table since late summer, he finally achieved his goal with a resounding victory in the junior title.
Family and friends from his home town of Hawick were present to see the teenager deservedly receive his crown. Conspicuous by his absence was his agent, Alan Harrison, but the occasion was certainly not lost on him. "What this kid has achieved is unbelievable," he said. "He's ridden 51 winners and 45 of them have been on outside rides."
Hart credits his boss Declan Carroll as the man who has paved the way for him to be top of the pile by creating opportunities and getting him noticed.
"There's so many people to thank," said Hart, "Declan, Alan, and all the trainers and owners who have given me such great support this season." Eric Alston, Tim Walford, Keith Dalgleish and Ruth Carr came in for special mention from the grateful 19-year-old.
"For so long I hardly dared think about winning, because I had Thomas Brown and others snapping at my heels. I'm particularly pleased with the way this final week has gone because I've had four winners, which has pushed me through the half-century, which was a target of mine."
Hart has no plans to continue riding through the winter. "I've got 20 winners left to lose my claim and I think it's important to protect those until next [turf] season, to gain some momentum."
There is, of course, the chance that Hart could emerge triumphant in next year's apprentice championship. Not that he was thinking about that on Saturday as he was hoisted shoulder-high by his colleagues and being drenched in water as the obligatory baptism for number ones.
Richard Hughes knows the score. He was left soaked with water and champagne after retaining his jockeys' title after a momentous year, in which his boss Richard Hannon gained his fourth trainers' championship.
Hughes has little time to reflect on his double-century of winners. He is off to ride in South Africa, Japan, Hong Kong and India before batteries can finally be recharged under a Caribbean sun in Barbados in January.
"And then, when I start again scores will be back to zero, which is terrible," he said. "But we are very fortunate in having a lot of good horses and the future is bright, I think."
The future is bright too for Hayley Turner, sidelined since suffering back and pelvic fractures in a fall on this course at the St Leger festival in September. "I am back training again," said Turner after picking up the gold award in the Prolinx Female Jockeys' Championship, in which Rosie Jessop and Jenny Ferguson won the silver and bronze prizes.
Every time you turned around, it seemed another award was being presented. To Godolphin for a ninth title as top owner, to jockey Gary Mahon for a first achievement in winning the inaugural Go Racing In Yorkshire Future Stars series and to Deirdre Johnston, accepting the Cock of The North cap on behalf of Joe Fanning. "He's ridden for us for 18 years and is worth his weight in gold," said the trainer's wife.