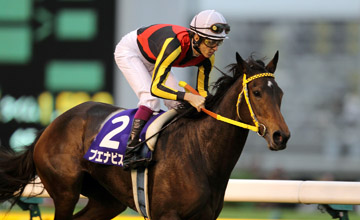 Buena Vista: won two Grade 1s - but probably should have won more
PICTURE:
Masakazu Takahashi
Buena Vista is named Japan's horse of the year
Japan: Luckless defeats have become something of a speciality for superstar filly Buena Vista but at least her connections received a measure of recompense when she was named Japan's horse of the year on Thursday.
Five times a Grade 1 winner, the five-year-old has been a victim of circumstance on her last two outings - unfortunately, in the two biggest races of the Japanese winter.
Firstly she passed the post a convincing winner of the Japan Cup, only to suffer a controversial demotion to second in favour ofRose Kingdom for interference.
Then she charged down the straight at Nakayama only to be touched off by Victoire Pisa in the Arima Kinen, a race that favoured those running closer to the pace.
The darling of Japanese racing fans, Buena Vista was also beaten only three-quarters of a length by Dar Re Mi in the Dubai Sheema Classic in March.
She did, however, register a pair of Grade 1 victories at home in the Victoria Mile and Tenno Sho Autumn and duly collected 211 votes from 285 votes available in the horse-of-the-year ballot.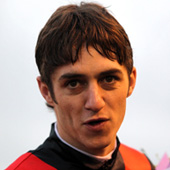 Christophe Soumillon: thanked those who voted for Buena Vista
PICTURE:
Masakazu Takahashi
Arc runner-up Nakayama Festa, who beat Buena Vista at Hanshin in June, took second placeagain.
Buena Vista's trainer Hiroyoshi Matsuda said: "I take great pleasure in receiving this award and I will work with her to ensure she lives up to it in the coming year."
Buena Vista is being targetedat a race on Dubai World Cup night, with the Sheema Classic the likely option once again.
Jockey Christophe Soumillon added: "This is a great honour - I was very sorry that I could not prove she was the strongest horse in the Arima Kinen but it is a very great pleasure that the people who selected her for this award have done it for her. I want to say thanks."
JAPANESE RACING AWARDS 2011
Horse of the Year: Buena Vista (Hiroyoshi Matsuda)
Older male: Nakayama Festa (Yoshitaka Ninomiya)
Older filly or mare: Buena Vista (Hiroyoshi Matsuda)
3yo colt: Victoire Pisa (Katsuhiko Sumii)
3yo filly: Apapane (Sakae Kunieda)
2yo colt: Grand Prix Boss (Yoshito Yahagi)
2yo filly: Reve D'Essor (Hiroyoshi Matsuda)
Sprinter or miler: Kinshasa No Kiseki (Nobuyuki Hori)
Dirt horse: Espoire City (Akio Adachi)
Steeplechase Horse: Bashi Ken (Yoshihiro Takahashi)