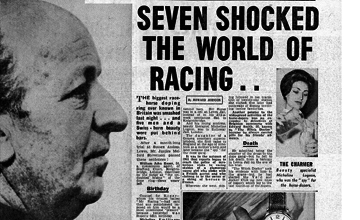 Bill Roper's police mugshot in the Daily Mirror in October 1963
'They really finished
him off, he wasn't
able to race again'
At the start of the 1961 Flat season the word in Newmarket was that master trainer Noel Murless was about to unleash a new superstar. The name of the unraced three-year-old was Pinturischio and he was owned by Murless's number one patron Sir Victor Sassoon, who had already won the Derby four times.
'Pint O'Sherry', as the bookies called him, was backed down to 5-1 favourite for the Derby before he had even set foot on a racecourse and, after he had hacked up in the Wood Ditton Stakes and finished a close fourth in the 2,000 Guineas, the ante-post bets continued to mount up. But, as punters know, there is a downside to ante-post betting and if for any reason Pinturischio didn't line up at Epsom, the bookies would keep the lot.
This second instalment from Doped, the gripping true story of bookmaker and gambler Bill Roper, reveals how Roper and his doping gang seized their opportunity. Knock 'Pinto' out of the Derby picture and the big boys would not only profit directly from the outcome – they'd pay the gang handsomely for doing their dirty work for them.
ON FRIDAY, May 12 Bill Roper went racing at Lingfield Park near Edenbridge. The leafy Surrey track staged its annual Derby trial which was won by a promising colt trained by Cecil Boyd-Rochfort called Pardao, who booked his ticket to Epsom. But the following morning Roper was in Newmarket where there was a much more significant trial involving Pinturischio, who worked brilliantly on the gallops, leaving Aurelius and another stable companion for dead.
Everyone associated with the horse, from Sir Victor Sassoon and Noel Murless and Lester Piggott to the legion of ante-post punters, including all those wealthy and well-bred Ladbrokes punters, who had backed him for the Derby and in some cases combined him in doubles with the favourite for the Oaks, was looking forward to his appearance at York the following Tuesday.
But on Monday, May 15 the news slipped out of Newmarket that Pinto was unwell and running a temperature which had first been detected the previous day. Some kind of stomach upset was apparently responsible and, although his temperature was only just above normal in the evening, come Tuesday morning Murless withdrew him from the Dante Stakes. There were no other trials on the horizon and there was a palpable air of disappointment as The Sporting Life reflected that punters would have no more chances to assess the favourite's ability before Derby day on May 31.
On the evening of May 15 there had been another Derby call-over at the Victoria Club but, following the news Pinturischio was 'indisposed' and with few people expecting him to run at York, he was deposed as favourite. The Frenchie, Moutiers, closed as the new 8-1 market leader with Pint O'Sherry [Pinturischio's nickname] out to 9-1 at which odds Arthur Cassani reported there was 'no business'. Of course there wasn't.
Racecourse rumours were already spreading fast, and certain wily Victoria Club members would have known exactly what was going on and what would happen next.
On Thursday, May 18 the mood picked up a bit as Murless reported 'Pinturischio seems to be improving. He did light work yesterday and he will canter today.'
There were still 13 days to go and the master trainer had not yet given up hope of saddling his new star at Epsom. But then, on Saturday, May 20 the telephones rang early on the newspaper sports desks and in the offices of the big credit bookmaking firms like Hills and Ladbrokes.
Pinturischio was not out on Newmarket Heath with the rest of Murless's string. It appeared there had been a recurrence of the colt's 'internal trouble' and when Murless got back to Warren Place after Sandown races on the Saturday evening, he issued a statement saying Pinturischio would not run in the Derby.
The sensational development was front- and back-page news on Monday, May 22. 'Pinto Riddle,' exclaimed the Daily Express. 'Was he got at?' The scout, Clive Graham, reminded Express readers that 'the big Pinza colt's mystery illness first became evident a week before, 24 hours after a hugely impressive gallop against two stable companions.'
Graham emphasised Pint O'Sherry had been 'the subject of a huge
ante-post gamble and coupled in doubles and accumulators to win many thousands of pounds with starting-price bookmakers'. He then quoted Murless directly, who said that 'there's no doubt that during the past week he [Pinturischio] has been suffering from the effects of some form of poisoning. I can't entirely rule out foul play.'
In the News of the World the following Sunday, Quentin Gilbey described the Derby favourite's defection as 'a Classic bombshell. Big backers, some of whom stood to win thousands, have been dealt a body blow by the recurrence of Pinturischio's mysterious stomach trouble.'
With exquisite irony the Norfolk Committee's report on Jockey Club doping policy had been published a few weeks before. From now on there would be routine and random dope testing at racecourses on a daily basis. No medication was to be permitted to be given to a horse within 72 hours of a race and, most importantly for the trainers, where a drug or stimulant was detected, no one would lose their licence provided the stewards were satisfied the trainer concerned had taken all possible steps to protect the horse in his care.
The report was hailed as a victory for common sense though, as many journalists observed, it was too late to rebuild the careers of Clive Chapman and the many other innocent men whose lives had been wrecked under the old regime.
Murless could now reasonably have gone to the Jockey Club without fear of repercussions, shared with them his suspicions about Pinturischio and called in the police. But the trainer was loath to accept he had been the victim of an inside job and, to begin with, he continued to try and find other explanations.
WHEN Murless had been called to Pinto's box on the morning of Monday May 15 he'd found him to be in agony. He had been suffering from violent diarrhoea during the night and Murless summoned Fred Day, a leading Newmarket veterinary surgeon, who reported the horse had a temperature of 103 and thought at first he might have a twisted gut.
Day took samples of the colt's prodigious droppings and a blood test and sent them to be analysed at Newmarket's Equine Research Station. The colt was still vomiting and the nausea didn't abate until his temperature dropped to normal on the Tuesday.
On the Friday morning Pinturischio was well enough to canter five furlongs with Aurelius but, on the Saturday morning 'the symptoms had reappeared', as Clive Graham put it. What that really meant was that the poor horse was in agony once again and purging himself profusely. When he still wasn't any better that night, Murless decided there and then that he wouldn't be going to Epsom.
Surprisingly, on Sunday morning Pinto was one of the hungriest horses at Warren Place but the mini recovery was too late for the Derby. He wasn't actually scratched until May 27, four days before the race and after Lester Piggott had teamed up with him for one final, futile gallop.
Even then Murless found it hard to believe he'd been doped. 'Why would they have got at him before he'd proved his Derby credentials in the Dante?' he asked. He wondered if Pinturischio could have gobbled up sump oil while picking grass on the heath after his brilliant gallop on the 13th.
But it wasn't sump oil that poisoned him. It was a disgusting, foul-smelling liquid called croton oil which was one of the most powerful purgatives known to man. The viscous, yellowish brown substance comes from the seeds of a shrub, the croton tiglium, that grows in India and Malaysia and was used as a laxative in ancient Chinese medicine. Taken orally it causes intense stomach pains and diarrhoea and if you get it on your skin it can cause blisters, swelling and discoloration.
In the first half of the 20th century croton oil was used in zoos to cure large mammals like elephants of what was politely termed 'obstinate constipation' and, in the 1920s, Chicago bootleggers sometimes poured it into whiskey bottles to catch out light-fingered rivals tempted to steal their goods. In the Second World War the US Navy even added it to their torpedo fuel in an attempt to deter alcoholic sailors from trying to siphon off and drink the grain alcohol that was the main fuel component in the tubes.
The two doses of croton oil used to dope Pinturischio almost killed him. They were recommended by Richard McGee, supplied by Ted Smith and administered by the colt's own stable lad Philip 'Snuffy' Lawler with the assistance of Darkie Steward, Jack Stiles and Alex Field, who picked the lock on his box once Lawler had shown them a way in. When the horse showed signs of recovering the Colville Terrace gang went back – or rather they were sent back – and did it again. This time Murless had a nightwatchman sitting beside a brazier in the yard but Steward later boasted that he threw a brick on to a nearby roof and that drew the nightwatchman's attention away while the others did the business.
'They really finished him off,' reflected Murless in 1980 in conversation with his biographer, Tim Fitzgeorge-Parker. 'In fact, from their point of view, they did such a good job that he was never able to run again.' The rich bay with the kind intelligent eye and the 'sensible gentlemanly manner' remained engaged in races like the King George and the St Leger and there was talk of him staying in training as a four-year-old but he never came right. He had little success as a stallion either, although he did slightly better when exported to Germany, where he died in 1976.
DOPING the Derby favourite was a shocking act. The racing equivalent of assassinating a president or a prime minister. It was made possible only through the collusion of Snuffy Lawler who, having turned down numerous offers to dope St Paddy the previous year, finally gave in, accepting a cash bribe believed to be in the region of £600, or £10,800 in modern money.
Murless had had his suspicions for some time as so many other horses Snuffy looked after had been beaten when expected to run well. He found it hard to believe one of his best lads – St Paddy's lad – an employee he had liked and trusted, could have betrayed him and harmed the horses in his care. But other voices – including jockeys, racing correspondents and friendly bookmakers like William Hill – kept telling him the word in Newmarket was that Snuffy was bent and had to have been involved. Nothing was said openly in the press but a painful meeting followed and Lawler left the yard. He would never work in racing again and initially he went back to his native Merseyside but it was not the last that either the sport or Roper's gang would hear of him.
The nobbling of Pinturischio was unlike any other crime the gang carried out. This wasn't about getting at a favourite the night before, befuddling it with amphetamines or barbiturates and then backing the second or third favourite the following day. This was a job done to order and specifically designed to ensure Murless's horse would never run at Epsom.
The gang supplied the drugs, the personnel and the 'expertise' and, as Clive Graham was quick to point out, their efforts saved the big credit and SP bookmaking firms thousands of pounds' worth of ante-post liabilities. Bookies like Max Parker, who had got the big loser they were always looking for. Bookies like Alf Cope, Jack Swift and Bernie Howard not to mention such sterling independent operators as Charlie Mitchell and Albert Dimes.
Scotland Yard investigators were eventually involved, and they concluded some £200,000, or £3.6 million in 2013 currency, was won by the bookies as a result of the doping. But no one was ever charged with ordering it or carrying it out. The police believed 'a knot of not inconsiderable bookmakers were involved' but found it well-nigh impossible to obtain sufficient evidence for a prosecution.
William Hill admitted he had benefited financially but he had tried to alert Murless a week before the Dante to the possibility the horse would be got at.
Over the next two years the police and the Jockey Club frequently appealed to the big bookmakers to come forward and share what they knew but only two of them, Hill and Archie Scott, were prepared to cooperate fully and disclose the details of their ante-post trading. The rest stayed away, many of them losing or discarding their ledgers and accounts on the 1961 Derby, even as the betting ring bush telegraph buzzed with rumours of what had happened.
When the finger was pointed specifically at Max Parker and Cyril Stein, the crafty old operator and his nephew maintained a discreet silence. Jackie Dyer, who had been in Newmarket with Joe Lowry the night Treasure Hunt was doped the year before, remembers: 'Maxie would often have all of the gang back to his flat for dinner on a Saturday night. He lived in Montagu Square not far from Marble Arch and he loved to cook. That was one of his main pleasures.'
The bookie, who was 61 years old in 1961 but looked older, could afford to bring out the best silver and get in the finest wines and beef sirloin from Smithfield after the running of the 174th Derby.
Doped: The Real Life Story of the 1960s Racehorse Doping Gang can be bought for £15 (free P&P) by calling the RP Bookshop 01933 304858