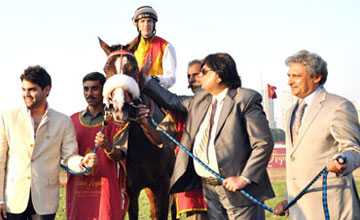 That was then...Ocean And Beyond team after Indian Guineas triumph
PICTURE:
Indiarace.com
Hughes Guineas winner in Indian steroid scandal
India: The Indian racing community has been rocked to its core by a steroids scandal involving a recent Classic winner ridden by Richard Hughes and two other horses both placed in Guineas races.
Ocean And Beyond, favourite for the Indian Derby on February 6, faces disqualification after testing positive for the anabolic steroid boldenone after being partnered by Hughes to win last month's Indian 2,000 Guineas at Mahalaxmi racecourse in Mumbai.
Also facing disqualification if initial findingsare confirmed are Star Future, runner-up in the 2,000 Guineas, and Eloise, who was third in the Indian 1,000 Guineas.
Boldenone, the substance at the centre of the scandal, is a banned steroid that could be used to build up muscle andstand more rigorous training.
Not only are the three horses concerned among the best in India, where racing has boomed in recent years, they are trained by three of the nation's most successful trainers in SK Sunderji (Ocean And Beyond), Cooji Katrak (Star Future) and master trainer Pesi Shroff (Eloise).
The initial samples were tested and analysed at the Newmarket-based HFL Sport Science Laboratory.
According to the Times of India, all three have expressed disbelief at the findings. They will now face an inquiry and a fine and/or suspension if the 'B' sample also returns a positive test.
Run under the auspices of the Royal Western India Turf Club, the Mumbai Classics are India's senior races - in effect the national Classics.
Hughes was afforded a standing ovation after partnering Ocean And Beyond to a well-backed victory as Guineas favourite in December.
RWITC chairman VivekJain commented: "It is shocking to find as many as three horses testing positive in the two Indian Classics run in December. It is unprecedented and intriguing. The stewards will conduct a thorough enquiry into the matter very soon."
India, however, has never exactly been immune to such unfortunate developments in the past.
Saddle Up was disqualified after winning Indian Derby in 1999 while Yana forfeited the Oaks in 2008.