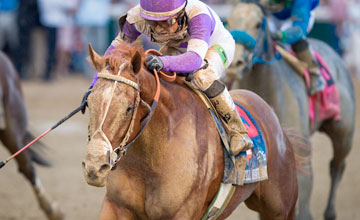 I'll Have Another won the first two legs of the Triple Crown for Doug O'Neill
PICTURE:
EquiSport Photos/Matt Wooley
O'Neill banned in August after deal is negotiated
USA: Kentucky Derby-winning trainer Doug O'Neill will serve a 40-day ban starting on August 19 after reaching an agreement with Californian officials to drop his appeal against the suspension.
O'Neill, who rose to national prominence when he trained I'll Have Another to win the first two legs of this year's Triple Crown, was due to serve a 45-day ban from July 1 after one of his horses tested positive for excessive levels of carbon dioxide.
This was the fourth time in his career that one of O'Neill's horses has tested positive for carbon dioxide, the test designed to uncover the illegal practice of 'milkshaking'.
However, after an agreement with the California Horse Racing Board (CHRB), O'Neill's ban has been cut by five days and now starts two weeks before the end of the Del Mar summer meeting, ending on September 27 at the start of the prestigious Santa Anita 'Fall' meeting.
The agreement did not include any admission of guilt from O'Neill, and his 80-horse barn will continue to operate with assistant Leandro Mora taking the helm.
"I want to put this behind me, take a step back, do something positive during the downtime," said O'Neill, speaking to the Los Angeles Times.
"There comes a time in a fight when it is no longer worth it to keep going," added O'Neill, who claimed the legal fight had cost him $300,000 in fees.
"I don't agree with what the board did but at the end of the day, life is not always fair. It was time for me to just man up and go forward."
Although the Argenta transgression took place at Del Mar in August 2010, the inquiry did not conclude until after O'Neill had won the Kentucky Derby, leading to enormous adverse publicity for the trainer.
The CHRB took the unusual step of saying O'Neill was not guilty of any deliberate malpractice - but the trainer immediately signalled his intention to appeal and has carried on training past the July 1 deadline.
I'll Have Another's Triple Crown bid ended the day before the Belmont Stakes when he was withdrawn with a tendon injury and he was retired. He was subsequently sold for stud duty in Japan for a reported $10 million.
>> I'll Have Another's jockey Mario Gutierrez is planning to return to his former base at Hastings Park in Canada over the summer months owing to a lack of opportunities in southern California.
He has ridden just six winners at the current Hollywood Park meeting, where he rode Quiet Oasis to win the Grade 2 Royal Heroine Mile on Saturday.