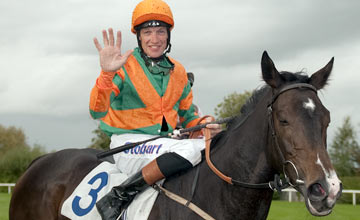 Richard Hughes: won the first Lester of his career
PICTURE:
Edward Whitaker (racingpost.com/photos)
Hughes scoops first Lester award
CHAMPION jockey Richard Hughes won the first Lester of his career on Thursday night as Tony McCoy added another two to take his overall collection to 20.
Hughes, who is in Dubai for Saturday's World Cup meeting, was voted Stobart Flat Jockey of the Year by his peers after finally landing the championship last autumn following a string of near-misses.
McCoy won both the At The Races Jump Ride of the Year for his spine-tingling success aboard Synchronised in the 2012 Cheltenham Gold Cup and the Stobart Jump Jockey of the Year for the 16th time.
The glittering awards ceremony, which celebrates the achievements of Britain's jockeys, took place at the Hilton Birmingham Metropole in front of more than 400 sporting stars, celebrities and guests.
The Apprentice Jockey of the Year award went to Amy Ryan, with Henry Brooke picking up the Conditional Rider of the Year prize.
Lucy Alexander took the Prolinx Lady Jockey of the Year prize, which marked the first time in Lesters history that two individual female jockeys had won awards, while Michael O'Connell's performance aboard Qubuh at Hamilton in May was voted Racing Post Ride of the Year by the newspaper's readers.
In what was an emotional presentation, the Arena Racing Company Jump Jockey Special Recognition Lester was awarded to the late Campbell Gillies, who died in a swimming pool accident in Corfu last June.
The Flat Jockey Special Recognition award went to Michael Hills, who retired last autumn following a career in which he rode more than 2,000 winners.
Paul Struthers, chief executive of the Professional Jockeys Association, said: "For jockeys, there is no greater recognition than that of their peers and winners treasure their awards.
"While the evening was about celebrating the achievements of jockeys, the memory of Campbell Gillies was never far away in people's thoughts and it was a fitting tribute to his memory that the jockeys chose him for the Jump Jockey Special Recognition award.
"The thoughts and prayers of jockeys were also with their colleague JT McNamara and his family."
Don't miss Saturday's Racing Post for a full report and pictures from the Lesters