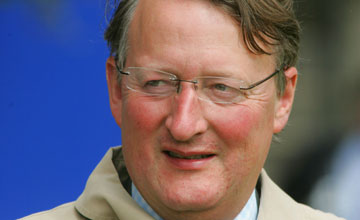 Philip Freedman: "extremely disappointed" with Arc's decision
PICTURE:
Mark Cranham (racingpost.com/photos)
Horsemen's anger at Arc's prize-money call
PHILIP FREEDMAN, chairman of the Horsemen's Group, said he is "extremely disappointed" that racecourse owners Arena Racing Company has not entered into the three-year prize-money agreement developed by the Horsemen's Group and British Horseracing Authority.
Although Arc agreed terms with the BHA with regard to the company's contribution to prize-money for 2014, Freedman thinks Arc's failure to sign the same agreement as other courses sends a damning message to the owners and trainers who provide the horses at their fixtures
Freedman said: "I am extremely disappointed that, following prolonged discussions, Arc is not prepared to enter into a prize-money agreement with horsemen that commits to a contractual link between their very significant media revenues and their contribution to prize-money, and so will not sign the same agreement that 30 other courses have already entered into.
"Their rejection of a partnership approach sends a very clear message to the people that provide the horses at their fixtures, who will see through their prize-money commitment to the BHA as being motivated by retaining fixtures controlled by the BHA and also opening up an extra day's racing on Good Friday."
Arc on Wednesday made a commitment that, subject to certain terms agreed with the BHA, will see them contribute £11.3 million towards prize-money in 2014 - an increase of £2.2 million in a one-year agreement - including a £1 million all-weather fixture at Lingfield on Good Friday.
Despite those figures, Freedman added: "It must not be overlooked that over 70 per cent of the Flat races run at Arc tracks this year will have offered total prize money of £4,000 or less, and much of the additional money they have committed will simply cover the price tag of the Good Friday fixture. In the light of their continued underinvestment in fixtures, it is hardly surprising that many horsemen harbour doubts that the £1m prize-money will prove to be a long term commitment.
"The horse population has declined by over 10 per cent since peaking in 2008 and, while it remains entirely a matter for individual owners and trainers, racecourses that reject the principle of a partnership with horsemen should not be surprised when they see the numbers of runners at their tracks continuing to decline. Horsemen will also seek to ensure that the funds they reinvest in the sport, through the European Breeders Fund and Racing Post Yearling Bonus Scheme, are concentrated at those courses which have committed to working in partnership with them.
"We remain optimistic that the boards of a number of other courses will enter into agreements with horsemen in the coming weeks. While we are very disappointed that the BHA has felt that for 2014 it had to allocate leasehold fixtures to Arc even though they have not signed a prize-money agreement with horsemen, we recognise the challenges associated with one particular racecourse group being responsible for nearly 40 per cent of the fixture list, which is clearly not a healthy position for our sport. Looking towards 2015, we will continue to work with the BHA to ensure that Arc understands the significance of entering into contractual prize money agreements with horsemen."