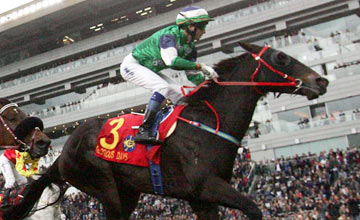 Glorious Days: beat rival Ambitious Dragon in Sha Tin's Stewards' Cup
Glorious Days stars in Stewards' Cup

Report: Hong Kong, Sunday

Sha Tin: Stewards' Cup (Hong Kong Group 1) 1m, turf, 3yo+
GLORIOUS DAYS (John Size/Doug Whyte) captured his first Hong Kong Group 1 on Sunday, scoring in the Stewards' Cup, a race his great rival and odds-on favourite Ambitious Dragon could finish only fourth in.
Australian-bred by Hussonet, Glorious Days was levelling the score to 2-2 in races this season with Ambitious Dragon.
"He always promised to deliver a performance like that and today the race was very fast run and he was able to take advantage of that tempo," said Size.
"It was run so the overall time would be quick and it was, so it's a very good performance. He's improved through the winter and probably reached his best today."
It capped a great day for Whyte who also won the Classic Mile on Gold-Fun.
"Glorious Days was stronger today than he felt last time and he ran on with a bit of purpose," the 12-times champion rider said.
"Last time I thought I rode a perfect race but Ambitious Dragon was just too good on the day. Today I waited a fraction longer but I think had I gone earlier he would have still quickened up.
"He was very strong at the line, which he hasn't been in the past. The penny's dropping and he's transforming into a proper racehorse.
"He just hasn't had the mental game before. He's been a year behind them, he was like a young kid that hasn't matured or grown up.
"I've always said to John there's so much untapped potential there and let's just hope he can continue to maintain this form - he'll be a force to be reckoned with."
Glorious Days could head next to the Queen's Silver Jubilee Cup over 7f at Sha Tin on March 17 with an overseas option later in the season.
"It's mapped out for us in Hong Kong," Size added, "but I think the Yasuda Kinen in Japan in June is an ideal race for him. He went last year. He's had the experience so I think he'll go back a different horse this year and he'll probably perform a lot better."
Zac Purton did not offer any excuse for Ambitious Dragon's performance afterwards.
"I thought I was going to win but when I let him go he just didn't let down like he has been," the jockey said.