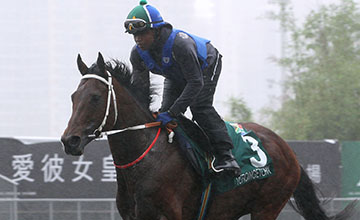 Vercingetorix stretches his legs at Sha Tin
PICTURE:
Hong Kong Jockey Club
De Kock sides with Vercingetorix in QEII

Hong Kong: Vercingetorix, blown away by the brilliant Just A Way in last month's Dubai Duty Free, is trainer Mike de Kock's pick of his two runners in the Group 1 Audemars Piguet QEII Cup at Sha Tin on Sunday.
De Kock is chasing a third win in the race and also runs Sanshaawes, but is siding with Vercingetorix, who, like the rest of the Duty Free field, found Japan's Just A Way far too good at Meydan.

Reflecting on the race in which the son of Silvano lost his unbeaten record, De Kock said: "At the top of the straight I thought it was race over, but I was biased. I was only watching mine and then I looked at the Japanese horse come up behind him. That was almost a shock as he went past him because Vercingetorix is a good horse - he wasn't stopping - and the Japanese horse went past him like he was looking for parking!
"Christophe [Soumillon] got off and said 'I thought my horse was going to win it, so he [Just A Way] must be the best horse in the world' and I must agree with him, that was an unbelievable performance.
"We beat a very good field behind. The third, fourth, fifth horses were all top-class and well-rated, and Vercingetorix was well and truly trounced, so he was beaten by a very good horse and he is a very smart horse as well."
Vercingetorix, who will be ridden by Anthony Delpech on Sunday, stretched his legs at Sha Tin on Wednesday morning.
He was joined by stablemate and Sanshaawes, who has Olivier Doleuze on board.
De Kock, who won the QEII Cup with Irridescence in 2006 and Archipenko two years later, added: "I would have to side with Vercingetorix, but the ratings would say that as well.
"Sanshaawes is a very honest horse, where he may lack a little bit of class - he gets going as well and he goes a little more than 2000m [1m2f], whereas Vercingetorix is at his top end at 2000m, so they're slightly different horses but I would side with Vercingetorix."