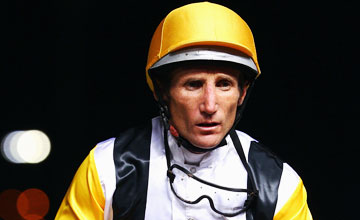 Damien Oliver: alleged to have bet on another horse on a race he rode in
PICTURE:
Getty Images
Oliver dumped from Cox Plate favourite Moon
Australia: Jockey Damien Oliver has been dumped from Cox Plate second favourite Green Moon on a day of controversy and sensation that has clouded Melbourne's spring carnival.
Owner Lloyd Williams replaced Oliver with Craig Williams who sacked himself from the favourite Pierro.
In a switch that has added to questions surrounding the beaten Caulfield Guineas favourite, Williams claimed the Green Moon ride on a day when newspaper reports claimed Oliver bet Aus$10,000 (£6,400) on a rival horse in a race in which he was riding.
The other horse, Miss Octopussy, won the race run at Moonee Valley in October 2010.
The allegation aired in Fairfax newspapers on Sunday stems from police inquiries into race fixing that have so far implicated several jockeys, including the recently disqualified Danny Nikolic.
Oliver has denied the allegations, declaring them "damaging and hurtful".
"I have been a jockey for 24 years," Oliver said in a statement. "My record and reputation show me to be honest, committed and trustworthy."
Craig Williams: jumped ship
PICTURE:
Mark Cranham
The race in question is also being investigated by racing stewards who have declined to comment.
Green Moon's owner Lloyd Williams had only announced Oliver as Green Moon's rider on Saturday.
Less than 24 hours later he announced in an text message Oliver was off the horse and that he was open to offers. Soon afterwards he named the new rider.
The owners of My Quest For Peace, who will be running in the Caulfield Cup for Luca Cumani, have also taken Oliver off their runner.
Owners OTI Racing tweeted: "Corey Brown will ride My Quest For Peace in next Saturday's Caulfield Cup."
The riding change has cast doubts over the immediate future of Pierro whose eight-win streak ended so dramatically at Caulfield.
His trainer Gai Waterhouse gave an assurance after the Guineas that Pierro would still run in Saturday week's Cox Plate, but a change of heart wouldn't surprise as his defeat by All Too Hard is analysed.
Williams' defection also means Waterhouse must now find two jockeys light enough to ride Pierro and stablemate Proisir who both have 49.5kg in the Cox Plate.
Pierro's Cox Plate stocks suffered a heavy blow as a result of his Guineas run, bookmakers turning him out from Aus$1.85 to Aus$2.70 after the race with his odds being further extended to Aus$2.90 on Sunday.
Most firms have Green Moon on the second line of betting at Aus$6, with Caulfield Stakes winner Ocean Park at Aus$6.50 and All Too Hard at Aus$7.