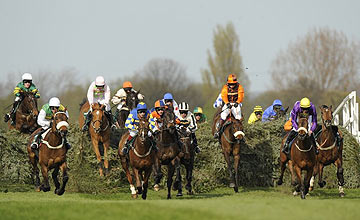 Aintree: officials watering to ensure that ground does not dry out
PICTURE:
Edward Whitaker (racingpost.com/photos)
More water set to be put on Aintree tracks
MORE water was set to be put on the course at Aintree on Friday night in an effort to ensure that the ground does not dry out unduly.

"We are going to put on a couple of millimetres to maintain it as it is," clerk of the course Andrew Tulloch said after racing on Friday. "The boys seemed happy with it.

"The forecast is for no rain tonight and a dry day tomorrow with a bit of sunshine and a bit of wind."

The going was described officially as good to soft, good in places on the hurdles and Grand National courses, good, good to soft in places on the Mildmay chase course.

Professional jockeys got their first chance this week to ride over the National course in the Topham Chase and Wayne Hutchinson, who finished second on Walkon, said: "It is lovely, beautiful ground, on the soft side of good." Denis O'Regan called the ground "dead, slow" while Sam Thomas reckoned it "good to soft."

Several riders said there was more give underfoot on the Mildmay course than there had been on Thursday and Ruby Walsh said: "It is slower than yesterday, on the easy side of good."

The going was also reported dead on the hurdles course, with O'Regan saying: "It is on the slow side, more so than yesterday."

As on Friday, bends on the hurdles and Mildmay courses will be moved overnight to provide fresher ground for Saturday afternoon.