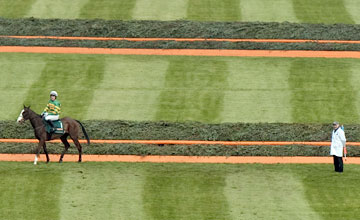 Synchronised before the start of the John Smith's Grand National
PICTURE:
Edward Whitaker (racingpost.com/photos)
Synchronised one of two Grand National deaths
CHELTENHAM Gold Cup winner Synchronised's bid to complete an historic double in the Grand National ended in tragedy as he was put down after breaking a leg.

According To Pete also lost his life as the world's most famous chase was marred by two fatalities for the second year in a row.
Both horses came down at Becher's Brook. Synchronised fell first time around, while According To Pete was brought down on the second circuit and was also put down.
Synchronised carried on riderless but stopped at the fence after the Canal Turn and wasput down after being found to have a hind-leg fracture.
The Gold Cup winner caused a scare after the parade when unseating jockey Tony McCoy. The horse was spooked by the start line, jinked and ran loose.
The JP McManus-owned nine-year-old was walked down to the start once he had been caught and was checked over by a racecourse vet before being allowed to race.
Killyglen and Weird Al were recovering after receiving treatment at the racecourse stable. Weird Al's jockey Timmy Murphy tweeted: "Weird Al gave me a great ride in National. Got a nasty cut to his leg but he will be okay."
BHA director Tim Morris said: "We are very sad about the fatal injuries suffered by Synchronised and According To Pete in the Grand National.
"In both cases the horse incurred a fracture to the leg and the humane option was to put the injured horses down. "
Aintree managing director Julian Thick said: "We are desperately sad at these two accidents and our sympathies are with the connections of both horses. When a horse gets hurt, everyone is deeply upset.
"Safety is the first priority for the organisers of the Grand National and we make every effort to ensure that everyone involved in the event is able to participate in safety."
"After today, we will, as always, be looking at all aspects of this year's race to see how we can improve safety further."
The RSPCA equine consultant David Muir added: "The society's view is that again we have had tragedies in the Grand National.
"We cannot support it unless they react to the issues that were brought up in this particular race.
"We have got a lot of work to do but I don't think we should be saying 'ban the Grand National' I think we should be saying 'what are the elements of the Grand National that are causing a problem' and deal with those problems."