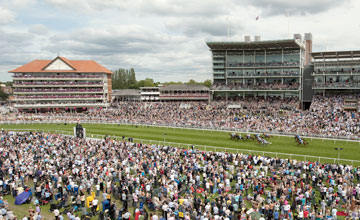 There has been 16mm of rain at York, with a possible 3mm still to come
PICTURE:
Edward Whitaker (racingpost.com/photos)
York going now good to soft, good in places

WITH 16mm of rain overnight, and more forecast, the going for day one of the York Dante meeting has already been changed from good to firm, to good to soft, good in places.
More than the 10mm predicted fell on the Knavesmire overnight, and while the main band of rain cleared the course at 8am, further showers are expected at least throughout the morning.
"We're up to 16mm now, and with that in mind we are now good to soft, good in places. We've just got a persistent light drizzle at the moment but that is due to clear," said clerk of the course William Derby.
"We are then expecting patchy rain through to about lunchtime, we could get none, we could get a further 2 or 3mm, and then a more showery afternoon.
"The GoingStick is currently 7.7 and the going is good to soft, good in places. We were anticipating rain so we didn't water and as such the course has taken it really well. Today is set to be the worst day weather-wise, it should get brighter tomorrow."