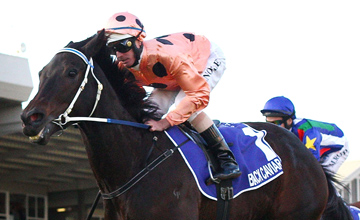 Black Caviar: connections hope to return to Melbourne after trip to Britain
PICTURE:
Getty Images
Black Caviar to sidestep Frankel Sussex clash
ANY OUTSIDE chance that the two highest-rated horses in the world could meet in a £1 million showdown in the Qipco Sussex Stakes ended on Monday, when connections of Black Caviar said she would not be among Frankel's rivals when the entries for the Group 1 are revealed on Wednesday.
Unbeaten in all 21 of her races, Black Caviar is due to contest the 6f Diamond Jubilee Stakes at Royal Ascot next month but by offering an increased prize fund for the Sussex Stakes, the race sponsors and Goodwood racecourse had hoped to tempt trainer Peter Moody into following up her run at Ascot in the August 1 contest, which would have been Black Caviar's first attempt at a mile.
Extinguishing all hope of a dream clash on Monday, Jeff O'Connor, representing Moody, said: "Moody Racing does not intend running Black Caviar at a mile in the Sussex Stakes, Frankel or no Frankel, as we are looking at getting her back to Melbourne for racing later in the year if she comes through Ascot as well as she can.
Frankel: likely to step up in trip
PICTURE:
Mark Cranham
"Therefore, we are not planning to nominate her for the Sussex Stakes at Tuesday's nomination stage as we feel it would not be the right thing by the racing industry worldwide, giving false hope that the race may happen."
Reacting to the announcement, Goodwood's managing director Adam Waterworth said: "We are obviously disappointed that Black Caviar will not be entered in the Sussex Stakes but fully understand her connections' viewpoint.
"It was always going to be a long shot to have the world's top two horses race against each other because of their different distance requirements but we wanted to make sure we did everything we could to facilitate such a contest."
With Frankel likely to step-up in trip following the Sussex Stakes, it now seems certain that the two superstars will never meet on a racecourse, although Rod Street, chief executive officer of the British Champions Series and Racing For Change, urged the racing public to make the most of having both horses racing in the same hemisphere at the same time.
He said: "From a RFC point of view, our glass is much more than half full. The two best horses in the world, unbeaten in 31 races between them, will be racing in the UK this summer over the distances at which they excel. Come and see them!"