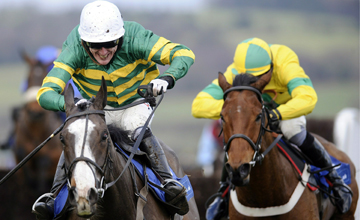 Giles Cross (right) finishing second in the Welsh National of 2011
PICTURE:
Getty
Cross Giles at your peril Dartnall warns
GILES CROSS is good value at 12-1 with the sponsor for the Coral Welsh National at Chepstow on Saturday, his trainer Victor Dartnall has suggested.
Devon-based Dartnall will be keeping his fingers crossed that Exeter's card on New Year's Day takes place, as it will offer further opportunities to put the end-of-year nightmare of a shut-down yard behind him, but in Giles Cross he has a horse to look forward to all week.
Giles Cross has finished runner-up in the past two Welsh Nationals, and while most firms have him at 10-1 to go one better, Coral eased him to 12-1 on Monday.
Giles Cross escaped the outbreak of equine herpes that closed down Dartnall's Devon yard until last weekend, when he saddled his first comeback runners.
The trainer said on Monday: "While it would have been ideal to get a run into Giles Cross beforehand, it wasn't possible, but he has done a lot of work and I'm pleased with him. He has won first time out in the past."
He added: "He's a good horse and I don't know why he's 12-1."
Favourite, after 23 horses were left in at the five-day stage, is Teaforthree, who like Giles Cross is on 11st 3lb. Teaforthree is 7-2 across the board, with every other horse available at 8-1 or better. The maximum field size is 20.
Chepstow took another soaking on Monday to top up its total rainfall during December to more than ten inches, but there was some good news from the Met Office to give encouragement that Saturday's rearranged meeting will beat the weather.
No further rain is forecast for this week and clerk of the course Keith Ottesen believes "we should be in good shape" for Saturday.
He said on Monday: "While it was disappointing to get another downpour today of around 15mm, it is expected to remain dry from now on and if that's the case we should be raceable by Thursday morning. All in all, we should be fine."
It is a similar situation at Sandown, which like Chepstow will host a Grade 1 juvenile hurdle on Saturday, in their case the Tolworth, backed by 32Red.
Sandown clerk Andrew Cooper said on Monday: "In all honesty we would struggle to race today - whilst there is little in the way of standing water, there are several areas of saturated and potentially false ground, which it would be difficult currently to get around.
"We are expecting today to be the last wet day and the rest of the week to be predominantly dry and relatively mild. On that basis, and with some further moving of rails, I believe we can be optimistic of racing here on Saturday."
Cooper added: "A couple of dry days will, I'm sure, make a massive difference. The ground is bound to remain testing."