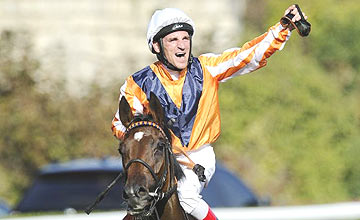 Danedream: 2011 Arc winner missed 2012 race due to quarantine
PICTURE:
Getty Images
Quarantine restrictions lifted at Cologne
Germany: The quarantine restrictions which have been in force at Cologne racecourse since October 1, 2012 were finally lifted on Friday after all the tests taken earlier this week proved negative.

Following an outbreak of equine infectious anemia or swamp fever, Cologne racecourse was put under quarantine, but the 300 horses trained at Cologne are now free to leave the area and run again in races worldwide.

Leading trainer Peter Schiergen, whose Danedream was the highest-profile victim of the ban, having been prevented from defending the Arc, said: "This is good news for all of us and we are very relieved. It has been a most frustrating time, but we are now looking forward to 2013."

Schiergen, despite having no runners for the final three months of 2012, was still the leading German trainer by prize-money last year, and is also the quickest off the mark with runners in two races at Neuss this Sunday. He also has five horses due to fly out this weekend for the Dubai Racing Carnival. "I expect to have my first runners in Dubai on January 17th," he added.

Cologne race club president Eckhard Sauren released a statement, which said: "We are happy that this whole business is now over and we can now go ahead planning our first fixture for 2013 on Easter Monday. I would like to thank all our trainers and their owners for their patience, as well as all my colleagues and the city veterinary authorities for their constructive co-operation in this difficult period."