Gary Hind joins Bahrain- based trainer Allan Smith
Bahrain: Globe-trotting jockey Gary Hind is set to resume his partnership with fellow countryman Allan Smith in Bahrain for the forthcoming season.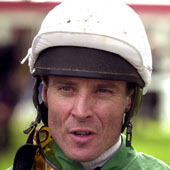 Gary Hind: returning to Bahrain
PICTURE:

Martin Lynch
Hind, who is replacing Qatar-bound Frenchman Gerald Avranche, has won jockeys' titles in both the UAE and Bahrain while riding for Smith, perennial champion trainer in Bahrain.
Hind, who bases himself in central Europe in the summer, has ridden in over 30 countries and has almost 1,600 winners to his name.
Now approaching the veteran stage, he is delighted to team up again with his old boss. "I was not 100% certain what I was going to do this winter so had no hesitation accepting the post," said the jockey.
"Allan is a top trainer and would have been champion in Dubai the year I was had they not settled the title that year on prize-money. He trained more winners that season than anyone.
"I have been champion twice in Bahrain, once for Allan, as well as Qatar and have ridden in the area for very many winters now. I have won all the Bahrain big races and know the racing well.
"It is a time of change in Bahrain racing but it is a great privilege to ride for the royal family and I am looking forward to trying win a third championship. We have a strong string and good team behind us."
Hind, from his base in Prague, rode Hungarian hero Overdose to victory in his first two starts this year, before making way for Christophe Soumillon when the horse suffered a first defeat in Germany in August.
Hind's biggest win in Europe was achieved in the 1996 Racing Post Trophy on Godolphin's Medaaly.
"Thatwas a great highlight," he reflected, "and one I always remember with fondness at this time of year.
"I have had some great times since and been lucky to ride all over the world - as well as meet people like Mother Theresa. Hopefully I have a few big winners left in me yet!"
Smith added: "Gary knows Bahrain as well as anyone and it is great to have him back on the team. Hopefully we can enjoy as much success as we have in the past."