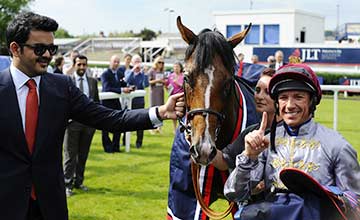 Frankie Dettori: signed up by Channel 4 for Royal Ascot coverage
PICTURE:
Getty Images
Fresh blow for Channel 4 as Ascot figures fall
THE gloom was not confined to bookmakers after day one of Royal Ascot with Channel 4 Racing suffering another fall in its viewing figures.
The beleaguered broadcaster is under pressure to deliver an increase in ratings on 2013 after the Investec Derby earlier this month attracted an audience of 1.55 million, an all-time low for Britain's premier Classic.
However Tuesday's coverage averaged 594,000 viewers, down from 616,000 12 months ago. The peak figure also fell from 900,000 to 847,000.
Channel 4, whose Royal Ascot audience plummeted almost 50 per cent last year in the absence of the BBC, has drafted in the services of Frankie Dettori and fashion guru Gok Wan in a bid to revive its fortunes this week.
A Channel 4 spokeswoman pointed out the programme's share of the TV audience increased to 8.1 per cent, compared to 7.8 per cent last year, and said: "Given that the coverage overlapped with two hours of World Cup build up on ITV (Belgium v Algeria, which started from 4.00pm - and averaged 3.1million /26 per cent share), Royal Ascot coverage performed strongly."