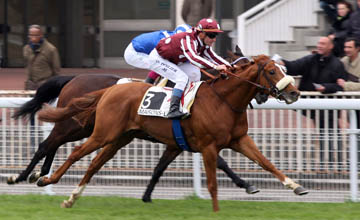 French Fifteen just gets the better of Abtaal in the Prix Djebel
PICTURE:
ScoopDyga
Rouget plotting Guineas revenge with Abtaal
TRAINER Jean-Claude Rouget is hoping Abtaal, a general 7-1 second favourite for Saturday's Qipco 2,000 Guineas, cangive France a second win in the race in the last three years.
Makfi took the first Classic of the season back in 2010 and Rouget thinks Abtaal can gain his revenge on French Fifteen, also trained in France, who narrowly edged him out in the Prix Djebel last month.
"I hope to take my revenge because my horse was really quite fat on his first run," saidRouget on Saturday morning. He added: "French Fifteen was more fit and had the advantage. I'm good friends with Nicolas Clement (French Fifteen's trainer) and we hope that we're both in the first three."
Clerk of the course Michael Prosser left the going as good to soft on Saturday morning but was not ruling out further improvement in the ground before the first race at 2pm.
Following a dry night, Prosser said: "There's not much moisture out there and I'm about to have a good look but it [the ground] could easily improve again. The track has taken the rain earlier in the week really well. I'm very happy."
Regarding the suitability of the going for Abtaal, Rouget told the Morning Line: "It was soft ground when I walked the course yesterday but it seems to be drying out and good to soft should be okay."