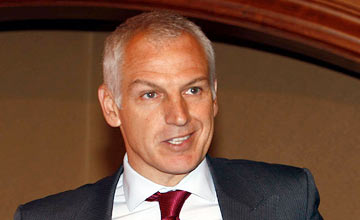 Paul Bittar: further trainers being investigated over anabolic steroids
PICTURE:
Dan Abraham
BHA chief reveals more trainers now under steroid spotlight
BHA chief executive Paul Bittar has revealed that more trainers are being investigated for use of anabolic steroids in the wake of the scandal sparked by banned Godolphin trainer Mahmood Al Zarooni.
The development came during a live television interview on Channel 4 News on Thursday evening with Bittar in the studio to answer questions following Frankie Dettori's admission of cocaine use and comments on the conduct of Al Zarooni, a former colleague at Godolphin.
Al Zarooni is serving an eight-year ban, subject to appeal, for the "catastophic error" of giving anabolic steroids to horses in his care in Newmarket.
The shocking news was followed by the further admission from fellow Newmarket trainer Gerard Butler that not only had he used a drug, Sungate, which contains traces of anabolic steroids, but that his vet had advised him it had been used on more than 100 horses in racing's headquarters.
"We are aware off the back of the Gerard Butler case that the vets who issued that [Sungate] to Gerard Butler have also issued it to a number of other stables," Bittar told Channel 4.
Bittar added later: "Part of the ongoing investigation is to explore how widely these drugs were administered in Newmarket. We are looking at all the options under the rules and we are also looking at the advice given to trainers.
"We do know the vets in question had other clients and we will be working with those trainers to get to the root of the problem.
"We don't know the exact numbers involved and we believe some of the horses involved were not thoroughbreds or horses in training, but we don't believe the problem is as widespread as was claimed [by Gerard Butler]."
One of the options open to the BHA could be some sort of amnesty if it is found that a number of trainers administered Sungate on clear veterinary advice.