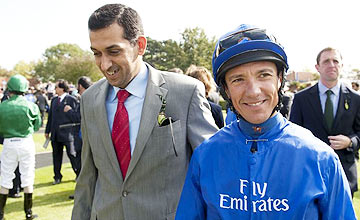 Frankie Dettori: appeared to blame Al Zarooni for split with Godolphin
PICTURE:
Edward Whitaker (racingpost.com/photos)
Dettori blames Al Zarooni for split
FRANKIE DETTORI appeared to blame disgraced Godolphin trainer Mahmood Al Zarooni for his own split with the world-famous racing organisation, claiming that he had "ruined" his career and severely damaged Godolphin's reputation.
Interviewed on Channel 4 News on Thursday evening, Dettori also likened himself to shamed cyclist Lance Armstrong as he spoke at length for the first time about his six-month absence following a positive test for cocaine at Longchamp on September 16.
Dettori, interviewed by Clare Balding, said of Al Zarooni's actions, which have rocked racing: "All the hard work, not just me, the whole stable, has been ruined by one person. It's ruined my career and now it's ruined Godolphin. When I say ruined, he has just given them a very, very bad reputation."
Due to return to action at Leicester on Monday evening, Dettori revealed he called his father first over the failed drugs test with his father, Gianfranco insisting he should check himself into the Priory clinic in London for rehabilitation.
""[My father] was the first person I called, " Dettori said. "He's old fashioned. He thinks if you've failed a drugs test you're actually an addict.
"[My father] thinks you should go to the Priory and clean yourself up. I said, 'Listen, it was a one off, I made a mistake'."
Dettori also said his wife Catherine was "devastated," at the news of the failed test.
Attempts to reconcile with Sheikh Mohammed have proven unsuccessful for Dettori, as he added: "I stopped in Dubai because I wanted to shake hands with Sheikh Mohammed, my patron for 18 years, and and say thank you.
"But for some reason or another he was too busy. I'm not sure if he refused or not, I think he was too busy."
Dettori suggested his harmonious relationship with Godolphin began to change in 2010, around the time of Al Zarooni's appointment as second trainer to Godolphin.
"Up until about two years ago I was having the best time of my life...and then for some reason things have changed," he said.
"We had a new trainer, new way of doing things and I didn't know whether I was in or out."