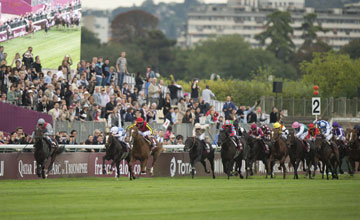 Treve (left) winning the Prix de l'Arc de Triomphe under Thierry Jarnet
PICTURE:
Edward Whitaker (racingpost.com/photos)
Dettori speaks of 'broken heart' after Treve win

FRANKIE DETTORI has spoken for the first time about the heartache missing the ride on Arc winner Treve caused him as he continues to recover from the injury that ruled him out of the Longchamp race.
Dettori fractured his ankle and broke a bone in his foot when unseating from Eland Ally on the way to post at Nottingham on the Wednesday before the Arc, missing out on the plum ride on the runaway winner.
"She's been a superstar since the minute I first rode her," said Dettori. "I was just waiting for the big day to come. You never know what's around the corner and when I was lying on the ground in pain I was just praying to God it was just going to be a twist or a sprain, but I wasn't that fortunate.
"It all happened in a flash. I went to hospital, got it operated on, had a pin put in it and I was back home Sunday morning and just planted myself in front of the TV," said Dettori, who was speaking about events for the first time on At The Races.
"When she won one side of me was delighted because I'm going to get to ride her in the future, but to me, more importantly, it would have been my 200th Group 1 winner, my fourth victory in the Arc, it'd have put me back on the big stage because I've not had many chances this year.
"I was taking painkillers, not because of my leg but because of a broken heart. It was a very harsh Sunday for me. You've got to put everything in perspective, I'm not dead, I'm going to come back, the filly is still there for me, it's just unfortunate, it's bad luck."
On the performance itself, Dettori added: "She had a bad draw, she was pushed five wide throughout, she was a bit keen. It looked like she just ran away with Thierry because he knows she's got a fantastic turn of foot and he could have waited halfway into the straight, but the filly, she wanted to go so early he let her go and it was amazing to watch.
"The depth of the field she beat, it just represents how good she is. She's unbeaten and what's remarkable is she ran the last two furlongs faster than Moonlight Cloud and faster than the l'Abbaye, the sprint. To put it in perspective it was a pretty amazing performance.
"She won the Prix de Diane, a Classic, in a track record, she's a five-length Arc winner, so you've got to put her up there with the very best. It's great Sheikh Joaan decided to keep her in training so we get to see her again and hopefully she'll give everybody a day like that."