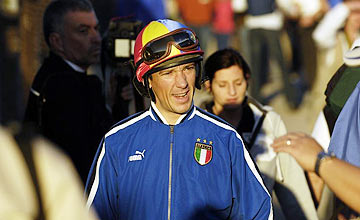 Frankie Dettori: return to race-riding appears to have been delayed
PICTURE:
Edward Whitaker (racingpost.com/photos)
Dettori comeback jeopardised by red tape
RED tape looks to have prevented Frankie Dettori from making his comeback from a drugs ban at Leicester on Monday, with France Galop not having re-licensed him, so preventing the BHA from doing likewise.
With a French medical commission needing to meet with Dettori in person before he is eligible to ride in France again - and consequently Britain, from the BHA's perspective - his return appears likely to be delayed.
The BHA indicated they require France Galop to clear and licence Dettori before they can reciprocate, although the French authority do not believe their circumstances should be a bar to Dettori returning in Britain.
A BHA spokesman said: "The BHA has received notification from France Galop that they are not prepared to sanction Frankie Dettori as fit to race ride until he has had a meeting with their medical committee.
"Consequently, in line with the position outlined to Dettori by the BHA's Licensing Committee at their meeting on Tuesday, May 14, and in the absence of clearance from France, no licence will be issued while such matters remain outstanding.
"BHA is seeking further clarification from France Galop but is unable to make any additional comment at this time."
Dettori's six-month ban for taking cocaine expires on Sunday, and his agent Ray Cochrane had lined up a full book of rides for Leicester and Nottingham the following day.
It is unclear when Dettori will be able to attend the requisite meeting with the medical committee.