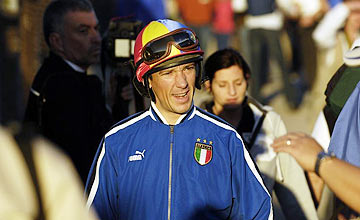 Frankie Dettori: expressed grave concern for the future if Italian racing
PICTURE:
Edward Whitaker (racingpost.com/photos)
Explosion at protest as Italian crisis heightens
Italy: The crisis in racing escalated on Thursday when an explosive device went off outside parliament in Rome during protests over the cuts threatening the industry.
As debate took place in parliament during the afternoon and evening, the device exploded as some people tried to smash the enclosure which prevents access to the parliament entrance.
Nobody claimed responsibility for the explosion after which police said there were no injuries among police or protestors.
It appears the device was being used to try and break down the barrier preventing them getting to parliament rather than to hurt/kill anyone.
Several of the country's riders, trainers and breeders wearing horse-head masks and blowing trumpets were among those demonstrating, while many protestors were decked out in blue T-shirts reading 'Save Italian Racing', adopted after Frankie Dettori wore one to the international jockeys' challenge in Hong Kong last month.
On Friday, Dettori said: "Italy is in crisis - there is agreat tradition of racing there, a great history, and it would be a tragedy if that was to be lost.
"I do understand there are many other pressing issues for the government but if they don't do something we could be looking at 50,000 people out of work. I feel for my family, I feel for my friends - I feel for the industry as a whole."
Equally grave concern was expressed by Sandro Moscati, deputy head of the National Trotting Horse Breeders Association, who said on Thursday: "Horseracing in Italy is in peril, it's dying off and at least 50,000 people risk losing their jobs."
Although organisers claimed only 600 demonstrators gathered in Piazza Montecitorio, other industry insiders suggested to the Rscing Post that the crowd was up to 4,500 or 5,000 strong.
Soon afterwards the protesters moved to the nearby headquarters of Assi, the organisation that replaced Unire as Italian racing's independentgoverning body to liaise directly with the ministry of agriculture.
Many in the racing industry see Assi as simply Unire under a different name and Assi uses the same offices as Unire and many of the same staff.
Atthe start of January around 150 protesters broke into the Assi office in Rome in an attempt to prevent the broadcasting of foreign races and with tension increasing Mario Catania, the Minister of Agriculture, said: "We will spend the next week looking at how we can best help the racing industry and the jobs that it provides."
MPs from all parties agreed that the saving of thousands of jobs in the racing and breeding industries was of prime importance and will spend the next week putting together a plan to help racing finance itself.
There has been no racing at any of Italy's 41 racecourses during 2012 and many fear that unless a radical shake-up to the industry is introduced,the sport could simply disappear or be staged on a much reduced scale.
Protesters claim the government plans to cut funding to the sport by 40 per cent, but according to the Italian gambling authorities, betting on horses fell 20 percent last year compared to 2010, with punters placing just €1.37 billion and gate figures continuing a dramatic slump.
In the meantime, on Tuesday there will be a discussion in parliament to look at amending an act of parliament to allow part of the revenue of taxes earned from slot machines to be given to the racing industry to help finance prize-money.
Mario Masini, president of Italy's Thoroughbred Owners Association, said: "That is a step in the right direction and appreciated but we may well have another protest outside parliament on that day to keep everyone's mind on our problem."