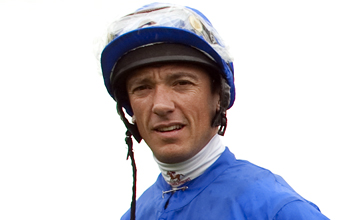 Frankie Dettori: returns to action on Monday at Leicester
PICTURE:
Edward Whitaker (racingpost.com/photos)
Frankie Dettori: I feel like Lance Armstrong
FRANKIE DETTORI likens himself to shamed Tour De France cyclist Lance Armstrong in an interview with Clare Balding which will be broadcast during Channel 4 News from 7pm on Thursday.
Dettori is set to return to action on Monday, May 20 at Leicester for his first rides since serving a six-month ban for testing positive for cocaine at Longchamp on September 16.
Speaking about his life since his failed drugs test, he told Balding: "I've been tested 15 times in the last two months, I feel like Lance Armstrong, they can come and knock on my door any time of the day."
In the interview Dettori also discussed how he was feeling depressed as his career unravelled at Godolphin, citing the 2012 Dubai World Cup as the culmination of his dissatisfaction.
"My first 17 years of my riding career [at] Godolphin, I was always the number-one pick.
"All of a sudden I saw myself being the fourth in the biggest race in the world, and it started from there and it was never an explanation why and what, you know. I had to accept it for unknown reasons."
With the now disgraced Mahmood Al Zarooni added to Godolphin's training roster in 2010, signs of the operation's expansion were again evident in early 2012 as Silvestre de Sousa and Mickael Barzalona were added to the list of Godolphin's retained riders.
"Up until about two years ago I was having the best time of my life...and then for some reason things have changed. We had a new trainer, new way of doing things and I didn't know whether I was in or out," Dettori added.