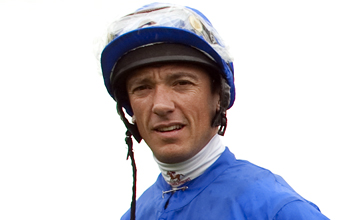 Frankie Dettori: hit with six-month suspension following positive drugs test
PICTURE:
Edward Whitaker/racingpostpix.com
Dettori backed to bounce back from drugs test ban

NEWMARKET'S Italian community on Wednesday rallied round Frankie Dettori, as trainers and jockeys backed the three-time champion to bounce back from his six-month ban.
The suspension, confirmed by France Galop on Wednesday morning, and which Dettori will not contest, amounts to an effective worldwide ban as racing jurisdictions, including the BHA, will accept the French authority's request to reciprocate it.
Bookmakers, always on the hunt for innovative markets, set about pricing Dettori 2013 specials, and Paddy Power go just evens about Dettori adding to his haul of 88 Group 1 winners in Britain and Ireland.
Dettori will be able to ride again on May 20, subject to passing a medical, and the trainer who first took him under his wing as a teenaged apprentice was pleased that he will be eligible to ride at the Investec Derby festival.
Luca Cumani said: "I very much hope he can overcome this setback. It would be a shame if this affects his future because he's such a fantastic rider. I am sure he will be determined to prove it again when he comes back. I'm glad he can be around for the Derby and hope he gets a good ride in it."
Marco Botti provided Dettori with the last of his three top-flight victories in 2012, when the rider steered Joshua Tree to success in the Canadian International.
Botti said: "I'm not sure what Frankie's plans are but if he wants to keep fit then I would be more than happy to let him ride work.
"Frankie won the Canadian International for us. I was keen to use him on some horses and we had a chance to have him more than previous years.
"We don't have a stable jockey. Adam Kirby still rides for us and so does Martin Harley and will continue to do so, but I think we'll have rides for Frankie when he comes back."
Dettori has been racing's most recognisable figure for numerous years, a fact acknowledged by the sport's promoters, Racing For Change, who said racing was strong enough to survive the negative publicity his case has brought.
In a statement chief executive Rod Street said: "Frankie, for many years, has played a significant role in promoting racing to the wider public. He has also been an excellent ambassador for the British Champions Series.
"He will certainly be missed but racing is a big sport so we're sure his absence will bring other racing personalities to the fore. In terms of the wider impact from Frankie's suspension, negative publicity for the sport is always regrettable but racing is robust enough to cope with it. And, when Frankie returns, we're certain he'll come back stronger and wiser."
William Buick, a rising star of the weighing room, and likely one day to emulate Dettori by becoming champion, said from Hong Kong: "He has done so much good for the sport and I'm sure he will be back stronger at the end of it."
The riders' umbrella body, the Professional Jockeys Association, also backed Dettori, chief executive Paul Struthers saying: "As in any walk of life jockeys will make mistakes. Frankie Dettori has made such a mistake and accepted the consequences of it, and if he needs any support the PJA and Injured Jockeys Fund between them can provide that."
Struthers continued: "Jockeys in Britain are subjected to regular testing and, from 2,607 in-competition urine tests and 3,697 breath tests since 2005, there is no evidence to suggest that there is a fundamental drug problem with jockeys.
"The wider issue of jockeys' mental wellbeing is something the PJA cares passionately about.
"As well as all the normal pressures that other sportsmen and women have to contend with, unlike many other sports jockeys have the added pressures of massively reduced calorific intake and are constantly at very real risk of serious injury.
"Jockeys in Great Britain have an excellent support structure in place in many respects. This is true when it comes to mental wellbeing, but whilst the support is there, racing perhaps lags behind other sports particularly when it comes to raising awareness of the issues and the support that is available, and it is overdue that more was done.
"The PJA has been in dialogue about this with the Injured Jockeys Fund, the British Horseracing Authority and Betfair, who have sponsored the PJA's Medical Adviser for the last four years and will do again next year, as well as sponsoring the Physio and Fitness wing at IJF's Oaksey House in Lambourn.
"As a result, we will be meeting early next year to discuss the issue of jockeys' mental wellbeing with a view to doing more to raise awareness of the issues and the support that is available."
In not being able to ride until well into May, the vast majority of bookmakers do not quote Dettori for the jockeys' title, but going against the grain were Coral, who reintroduced him into their market, albeit at 66-1.
Spokesman David Stevens said: "Frankie Dettori has stated his desire to rebuild his reputation in the saddle next year, and with his return pencilled in for May he will have time to get back to winning ways at some of the season's biggest meetings, including Royal Ascot, scene of some of his most famous triumphs to date."
William Hill will refund all bets placed on Dettori to win next season's title, for which he had been cut into 12-1 (from 20) following his split from Godolphin and stated ambition to make a success of being a freelance.
Hills make Dettori 12-1 to ride a Classic winner in 2013 and 33s to be top jockey at Royal Ascot. Paddy Power quoted the same price about that eventuality, but Coral went only 16s.
Paddy Power make Dettori a 4-1 chance to partner a winner on his first ride back, while Coral are a point shorter.