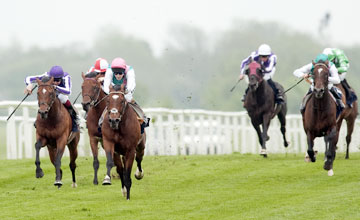 Frankel (pink cap): bids to get Royal Ascot off to a flyer in Queen Anne
PICTURE:
Edward Whitaker/(racingpost.com/photos)
Much to savour as stars take centre stage at Ascot
In years to come we will look back on this week as a high point in racing history.
For those in racing the presence of Black Caviar and Frankel will make this Royal Ascot even more special than normal.
For those on the outside there has never been a better time to switch on. Back yourself two winners, watch two champions win by daylight and get involved in an exciting sport at its scintillating summer best.
Decades from now people will talk of Frankel and Black Caviar. They will remember the horses as legends: the champion at two, three and four and the triple (or quadruple) world sprint champ.
They are unbeaten now and they should still be unbeaten this time next week. In fact, both are expected to maintain their 100 per cent records until called to their impending careers in enhanced genetics.
As if sent from above, these all-time greats have arrived at a low point historically for the sport. External and internal pressures are abound at present. Round the world different countries are facing financial and political problems and the solutions may change racing forever.
But even if the apocalypse comes and we are left, in decades to come, as old men and women playing slot machines and watching digital camel racing on the big screen in our local bookies; ruing the loss of our sport and the residentialisation of our racecourses, planning the revival of the great game through underground street racing through the disused high streets of the country formerly known as Great Britain, if our children become such slugs that none is light enough to ride a horse, if our gastric-banded grandchildren are so addicted to computers that they can not function in a world where men work with animals and we eventually concede defeat through weight of time and circumstance to the terrors of virtual racing, we will always have this week.
This is the week Black Caviar and Frankel turn up at Royal Ascot and strut their stuff on the biggest catwalk in racing.
Frankel gets us started in the opening race, the Queen Anne Stakes on Tuesday. In terms of scheduling it was the worst possible slot for the horse, but what a way to kick-start the bonanza. Follow that.
Regretfully, Frankel's races are becoming as predictable as a Scooby Doo plot. Excelebration is set to run, so we're probably looking at a four to five length winning margin over the old foe. Or perhaps a slightly shorter win over Strong Suit.
If he manages to extend his margin over Excelebration we could be looking at the first ever 140 performance on RPRs, but there is plenty of time for that if it doesn't come on Tuesday.
The chances of a Frankel/Black Caviar match race have been burned by both camps in recent weeks (where there's faux will, there's no way) but the superstars will face-off in other ways this week.
Who will capture the public imagination? Who will be the shortest price? Which will win by furthest? Which will be most impressive?
Frankel (the caretaker of the struggling hotel) is probably looking at a four-length margin over Excelebration (his shifty nephew, who is never around when the ghost shows up) and Black Caviar could be looking for something similar in the Diamond Jubilee on Saturday.
European sprinters have not run to high figures in the Golden Jubilee in recent years. In the last five years the best performance from a Euro was an RPR of 123. In the last three years the best Euro ran to just 120.
If we take Moonlight Cloud (mare's allowance) as the best Europe has to offer, and she runs to her best of 122 (which fits recent averages), Black Caviar (133) could win by three and a half lengths.
If a colt finishes second and he runs to the more recent average of 120, we could be looking at a five-length win for the mare.
Black Caviar is a certified monster but anything wider than a five-length margin would probably require a career-best performance - and don't expect Luke Nolen to go after her if she's already four lengths clear.
Connections like to preserve her and never chase wide margins. After her last win, Moody joked that he would have hit Nolen if he had hit the horse. You don't go 21 unbeaten by asking for maximum effort every time and we're probably looking at three to four lengths on Saturday.
Two great horses and, if all goes to plan, two great performances to top a great week of racing.
The best performance last week came from the ultra-versatile Wise Dan (128), who finished a close second in the Stephen Foster Handicap at Churchill Downs on Saturday.
A graded winner on turf, the all-weather and dirt, Wise Dan was already the highest rated horse in America this year after running out a wide-margin winner of the Ben Ali Stakes on Keeneland's Polytrack with an RPR of 128 - and he matched that figure on dirt on Saturday.
Ron The Greek (124) won the competitive Grade 1 contest by a head, carrying 4lb less than the runner-up. He is progressive, doesn't want for stamina and looks an interesting place player for the Breeders' Cup Classic.
TOP OF THE CLASS: Wise Dan 128 Charles Lopresti (US) (Stephen Foster Handicap, Churchill Downs, 1m1f, 16 June)
TOP LIST
TOP TURF PERFORMERS
TOP DIRT PERFORMERS
TOP ALL-WEATHER PERFORMERS