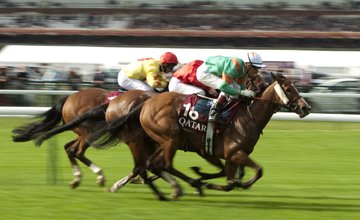 Racing in France was responsible for €9.8 billion worth of business
PICTURE:
Edward Whitaker (racingpost.com/photos)
PMU defies gloom with strong 2012 results
FRANCE'S former monopoly betting operator Paris Mutuel Urbain has defied an uncertain economic outlook by announcing a 15th straight year of growth in it's provisional results for 2012.
PMU turnover rose year-on-year by 2.5% in to a figure just shy of €10.5 billion. Racing still accounts for the major share of PMU business and was responsible for €9.8 billion worth of business, a rise of 0.5%.
Strong development derived from international agreements for pool betting on French racing, notably in Belgium and Germany, has offset difficulties at home.
PMU also registered sizable growth in its smaller sports and poker divisions, both of which face much greater competition from other online operators than in the field of racing.
All of which is very good news for the rulers of racing France Galop, whose operating budget, along with that of their trotting counterparts, relies on betting revenue. In 2011 the two authorities received €876m from the PMU.
Commenting on the 2012 figures, PMU Chief Executive Philippe Germond said: "The net result of 2012 in terms of profit directed towards racing's finances should exceed our objectives, giving [the authorities] room for manoeuvre in their development."