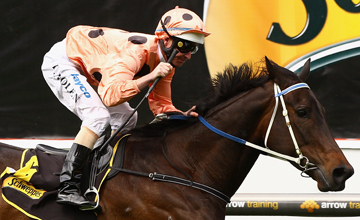 Black Caviar winning on Cox Plate Day at Moonee Valley in 2010
PICTURE:
Getty Images
Lightning win proves Black Caviar is a freak
WORLD CLASS: an analysis of the international scene according to Racing Post Ratings
BLACK CAVIAR showed in the Group 1 Lightning Stakes at Flemington in Australia that she is clearly a freakishly talented individual, so why does she have next to no chance of becoming world champion?
That should read 'official' world champion, since the Racing Post have already credited her with a mammoth mark of 131+ and that figure would have been good enough to take the RPR world title back in 2008.
The problem is that the officials have beenunderrating sprinters for a decade or more and now a phenomenon like Black Caviar comes along and leaves them with a dilemma: do they stick to their own levels, or do they allow her a shot at the world title?
Last season they low-balled her, giving her a mark of 123 (upped from an initial assessment of 122) which saw her finish the season as an average sprint champion - 123 being the mean and mode for official sprint champs in the last decade. She was better than that.
That figure left her 12lb shy of world champion Harbinger, which tells a common tale. Over the last eight years there has been an average discrepancy of 9lb between the sprint champ and the world champ and only twice since 1977 has a sprinter managed to top the overall standings - the latest being Dayjur in 1990.
More recently a chasm has opened up between the speedsters and the milers, intermediates andmiddle-distancers and Black Caviar has been left with the task of bridging it. Problem is, it's 9lb wide, which equates to almost three lengths at this distance.
Does she really have to be three lengths better than any other sprinter for the last decade (including Sacred Kingdom, Midnight Lute and Silent Witness) to be considered champion-worthy?
Well, truth is, she might be that good. But if she is she should surely be looking at even higher figures, like mid-130s.
Last year RPRs beat a lone drum for the superstar filly, giving her marks of 129+ for both of her last two starts, which ranked her as leading sprinter and top distaffer for 2010 - ahead of Goldikova and Zenyatta.
This season she has justified that faith - or simple adherence to the principles of handicapping - by winning the Lightning Stakes in the easiest manner imaginable.
Another star from last season, Hay List, was a three-and-a-quarter length second, but that distance was at least five-lengths before the winner started easing up. There was a bunch for the minors with in-form duo Warm Love and Grand Duels taking third and fourth ahead of Golden Slipper winnerCrystal Lily.
The winner's RPR of 131 is quite an important one, so buckle up . . . it ranks her as: the joint best female in RPR history alongside Goldikova, the best sprinter this century, joint second-best sprinter in RPR history alongside Stravinsky (1999), behind Dayjur (136 in 1990) and it was a mark good enough for Curlin, New Approach and Raven's Pass to share the world title in 2008.
In Australia she is already being compared to the all-time great sprinters, but it is too soon to say where she ranks just yet.
She has a whole string of Group 1 races to weave her way through before final judgement, but an effortless unbeaten in nine is certainly a nice start.
Her next potential target is the Newmarket Handicap where she will be allotted top weight of 58kg (9st 2lb), which caused some concern for her trainer but shouldn't be a barrier to success.
Weight hasn't been an issue in recent years with Weekend Hussler carrying 8st 11lb (basically 9st before weight for age), Takeover Target 9st and star mare Miss Andretti 8st 12lb.
And even if Hay List comes on for his run in the Lightning and returns to last season's best form he will still have a job to peg the filly back at the new terms.
If Black Caviar did win it would make her the highest-weighted female winner of the prestigious Flemington contest in 136 years, but that's just one more stat for the bonfire which started burning when she started racing.
As far as her latest performance is concerned, such a show of brilliance so early in the 2011 calendar can only bode well for the rest of the season and, by RPRs at least, the Lightning Stakes produced a young starlet who will be gunning for top spot come December.
For the official handicappers, it begs the question: if Black Caviar can't be world champion, then what does a sprinter have to do?
TOP OF THE CLASS: Black Caviar 131+ Peter Moody (Aus) (Lightning Stakes, 5f, Flemington, Feb 19)