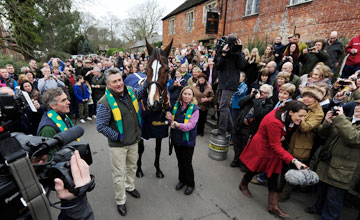 Kauto Star parading through the streets after his 2011 King George win
PICTURE:
Phil Mingo/Pinnacle
Five-time King George hero Kauto Star retired
KAUTO STAR, the greatest steeplechaser of his generation, was retired on Wednesday after a career spanning nine years and including two Cheltenham Gold Cup wins and a record-breaking five King George victories.
Widely heralded as one of the finest racehorses of all time, Kauto Star won thousands of fans and nationwide fame with his celebrated versatility, athleticism and longevity.
He was a winner of 23 races, 16 of them Grade 1s, run over distances ranging from the minimum trip of two miles up to the gruelling 3m2½f of the Cheltenham Gold Cup.
And in a garlanded career he broke numerous records, including most notably becoming the first horse to win five King Georges - bettering the great Desert Orchid's then record of four - and becoming the first ever to reclaim the Cheltenham Gold Cup.
His trainer, Paul Nicholls, and owner, Clive Smith, faced calls to retire Kauto Star after he was deposed by Long Run in the 2010 King George (which was postponed and actually held in 2011) and the 2011 Gold Cup.
However, they brought him back last season for famous victories over Long Run in Haydock's Betfair Chase, which Kauto Star won four times, and the King George at Kempton. He was 11-years-old at the time. Both wins were accomplished with jockey Ruby Walsh, who shared a long-lasting and much-lauded partnership with the horse.
Kauto Star was subsequently pulled up bidding for a third Gold Cup in March and connections spent the summer and early autumn debating whether to bring the now 12-year-old back for another season, but decided on Wednesday that the gelding would be retired.
Paul Nicholls: "end of an era"
PICTURE:
John Grossick (racingpost.com/photos)
Writing in his Betfair column, Nicholls said: "The end of an era has finally arrived. Clive was here this morning and we have taken the decision to retire Kauto Star.
"We have had nine superb years with the horse but, after seeing him in his work these past few weeks, myself, Clifford [Baker, head lad] and Dan [Skelton, assistant trainer] were of the opinion that the time had arrived to retire him.
"Of course, as owner, the final decision rested with Clive, but he agreed that the horse had done enough.
"Don't get me wrong, Kauto looks and feels as vibrant as ever, as those who saw him at our owners' Open Day last month would testify to. He was mad fresh that day and continues to be as alert as ever and very, very well in himself.
"But I suspect Kauto will be like that when he is 20-years-old."
Smith, a golf course entrepreneur whose other horses have included Champion Chase winner Master Minded, acknowledged the time was right for Kauto Star to retire.
"The overwhelming view was that he has done enough. He has been an absolutely fantastic horse, and we will retire him gracefully. He is 12-years-old now, and it becomes increasingly difficult for a horse to maintain top-line racing as it gets older," he said.
"Kauto Star has won 16 Grade 1 races during a brilliant career. I am so happy to be his owner, and have so many great memories, perhaps the very best ones from the biggest race of all, the Gold Cup. You can't get a bigger race than that.
"His five King George triumphs were obviously all special, too. To win it a fifth time last year was a massive moment, and it would take a lot to surpass that. He beat the Gold Cup winner of that year, Long Run, and was absolutely sensational that day. At his very best, Kauto Star was pretty well unbeatable, as he proved on that occasion."
Clive Smith: "At his best, Kauto Star was pretty well unbeatable"
PICTURE:
Mark Cranham (racingpost.com/photos)
Although no decision about Kauto Star's future has been made, Smith said: "Obviously we haven't rushed in to this retirement without planning ahead. We have been doing the preparatory work for some considerable time. We just can't turn him out in a field and I don't want him to be a hack.
"Kauto Star has always been very well looked after. A final decision on his long-term future away from racing has yet to be reached. We'll continue to think about things, and see where we go."
Although Kauto Star will not face another King George he is expected to parade before his adoring fans on December 26, and the track confirmed they will talk to his owner about a permanent tribute. Desert Orchid is honoured at the track by a statue by the paddock.
Brian Clifford, clerk of the course at Kempton, said: "Kauto Star is just the most fabulous racehorse and everyone at our racecourse who has witnessed his feats in the King George over the years feels privileged to have been here to be part of history. His achievements in the King George may never be equalled; he was that good.
"Kempton Park will certainly miss him because spectators were so excited when they saw him on the track, but the good news is that Kauto's owner Clive Smith has agreed that the superstar will be here with us again on Boxing Day on parade."
Bred in the west of France by Henri Aubert, Kauto Star spent the early part of his career racing in his homeland before he was purchased by Nicholls through the bloodstock agent Anthony Bromley. Smith then acquired the horse for €400,000.
Kauto Star first raced in Smith's famous green, yellow and purple silks in December 2004, winning his British debut at Newbury. He followed up with a remarkable performance at Exeter, where he fell at the second last, was remounted without irons and, after jumping the last, rapidly closed on the leader and was only denied by a single stride.
An injury sustained in that race ruled him out for the rest of that season but he returned in 2005/06 to win the Grade 1 Tingle Creek. He fell in that year's Champion Chase, but returned the next season to win his first King George and first Gold Cup.
The other Grade 1s won by Kauto Star were another Tingle Creek (2006), the 2008 Ascot Chase and the 2008 and 2010 Champion Chases at Down Royal.