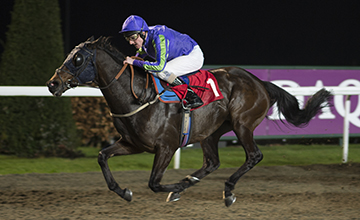 Low Key on his way to winning at Kempton and completing a huge gamble
PICTURE:
Edward Whitaker (racingpost.com/photos)
Low Key seals huge coup with Kempton romp
LOW KEY will need to be renamed after sealing an incredible four-pronged gamble involving horses previously associated with legendary punter Barney Curley on a run-of-the-mill Wednesday to leave bookmakers facing a payout beyond £2 million.
The previously undistinguished performer came home a comfortable winner of the 6.25 at Kempton to seal a coup built on earlier wins for the heavily backed trio of Eye Of The Tiger at Lingfield, Seven Summits at Catterick and Indus Valley at Kempton.
Low Key had been 7-1 in the morning shows but returned the 4-7 favourite as bookmakers were hit by a coup linked to former trainer Curley who declined to comment when contacted by the Racing Post.
Winning trainer John Butler, a former Curley assistant, denied any knowledge of the coup. "It is all speculation," he said.
"It is three years since I was with Barney, who was good to me at the time, but we have gone our own ways. When I woke up this morning and looked at his price, I couldn't believe it - it was a ridiculous price. I don't know about betting. The horse was entitled to win."
Paddy Power said they would be paying out more than €1 million and Ladbrokes claimed that a day of "frenzied betting activity" had stung the betting industry adding that suggestions of a "multi-million pound bloodbath" were "probably wide of the mark".
Coral pitched the damage to bookmakers' pockets at £2m with spokesman David Stevens saying: "Although we avoided laying some of the larger prices overnight, we did see a number of multiple bets featuring these four horses both online and in shops, and throughout the day this number increased as word of the gamble that was taking place gathered momentum."
Eye Of The Tiger, who was having a first start for Des Donovan having previously been trained by Curley, won easily at evens having been freely available to back at 4-1 in the morning. The German Group 2 winner was put in at 10-1 on Tuesday night.
Donovan said: "We have had him seven months and have had problems with him but he is a genuine horse."
Winning jockey Shane Kelly added: "Des thought he'd win. He'd been off a long time obviously and has had his problems, but he felt good today."
The stewards enquired into Eye Of The Tiger's improved form and noted Donovan's explanation that the horse had problems with both his legs and back in the past.
Seven Summits which, like Eye Of The Tiger, was previously trained by Curley won at 9-4, having been 7-1 overnight.
Christian Leech, owner of Seven Summits and husband of trainer Sophie Leech was asked if the winner was part of a Curley gamble. "I don't know anything about that," he said.
Asked if he had backed the horse, Leech added: "No. The prize-money is not bad, that will do."
The Donovan-trained Indus Valley was having his first run for 700 days and won as 4-6 favourite having been an 8-1 chance in the morning and as big as 20-1 last night.
Bet365 were spluttering hard having offered morning prices of 10-1 Eye Of The Tiger, 6-1 Seven Summits, 20-1 Indus Valley and 7-1 Low Key.
Spokesman Pat Cooney said: "The well-touted gambles brought back painful memories of a similarly successful day on May 10 2010 when three horses landed big gambles.
"We learnt the hard way that day, and this time our traders were quick to make dramatic price changes once the gambles began. It's always tough pricing low-grade, all-weather handicaps, and we've add the name of Des Donovan to our ever growing list of shrewd stables!"
At Coral, Stevens added: "Once the name Barney Curley was put into the mix - although there is no official confirmation he was involved - there is no question a lot of the bets placed would have been from punters with no knowledge of any plot but who were simply joining in the gamble."
BetVictor spokesman Charlie McCann described the coup as "just another well planned and, it would appear, well-executed gamble involving four horses with a direct connection to Barney Curley".
At William Hill, spokeswoman Kate Miller said: "We're paying out around £200,000 across the group, and because we spotted things early on, the vast majority of bets were laid at the shorter end of the market.''
There was one gamble still to come at that stage as in the concluding race at Kempton (7.55), Callisto Light, due to have a first start for Michael Squance having last raced for George Prodromou in October 2011, was trading at a low of 5-4 having been backed in from 16-1.
The script was duly followed as Callisto Light lasted home under a typical Adam Kirby drive to win as 7-4 favourite.
Squance said: "She has been working well with the legend that is Diplomatic so we knew she had a great chance in this. I've had her five weeks."