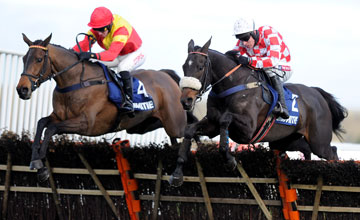 Puffin Billy (red and white) clashes with Melodic Rendezvous at Exeter
PICTURE:
Alan Crowhurst/Getty Images
Exeter passes second inspection but Naas off
TODAY'S meeting at Exeter, featuring a fascinating clash between Puffin Billy and Melodic Rendezvous, goes ahead as planned after the track passed a second inspection at 10am.
Between 5am and 8am the track was hit with 12mm of rain, leaving the going as heavy. Despite that rain the course was declared raceable following an initial inspection but with further rain forecast officials decided to look again at 10m.
Luckily the rain eased off before the second inspection and clerk of the course Barry Johnson was able to give the meeting the green light.
Speaking shortly after 10am, Johnson said: "It's been dry for the last hour and it's perfectly raceable.
"We've had 15mm of rain this morning and will probably get one or two more showers with the possibility of between 3mm-5mm more before racing.
"It's dry at present though and we'll plough on. The going is heavy."
Exeter is the only jumps card on Sunday after the meeting at Naas was called off due to a waterlogged track on the morning of racing.
There are no reported problems for Southwell's all-weather meeting, where the going is standard to slow.