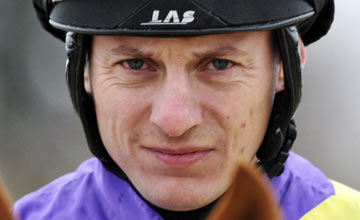 Eddie Ahern's credibility as a witness was called into question by the BHA
PICTURE:
David Ashdown (racingpost.com/photos)
BHA - Ahern was an unreliable witness

EDDIE AHERN was unsuccesful in his appeal aginst a 10-year ban because his evidence was "vague and uncertain", according to reasons published by the BHA's appeal board.

The jockey was found guilty in May of passing on inside information in relation to five races to punter Neil Clement and of giving the Jane Chapple-Hyam-trained Judgethemoment a stopping ride at Lingfield in one, in January 2011.

His appeal against both the finding of his guilt and the length of his penalty failed, with the panel fully supporting the findings of the original hearing.

Among the reasons the panel presented in suggesting Ahern was an unreliable witness is the contradiction between the instructions he claims he was given by Chapple-Hyam before the race and evidence she presented to the hearing.

Ahern claimed that in setting a fast early pace at Lingfield, he was merely following the trainer's instruction to "go plenty" having gone "too slow" at Kempton in the race prior.

However, Chapple-Hyam said that while she had instructed Ahern to lead the race, she had made no suggestions as to the pace because this was something she deemed a professional jockey capable of judging.
Ahern also highlighted a lack of evidence as to the nature of the supposed inside information passed to Clement and the reward gained.
But the panel decided the original hearing was within its rights to infer both had taken place based on the evidence presented.
In summing up, the panel also reject a suggestion by Ahern that a ban of eight years, relating solely to his ride on Judgethemoment, was sufficient punishment.
They say the added two years fairly reflect the "four other distinct instances" of rule-breaking and is not "so disproportionate that no reasonable decision maker could have imposed it".