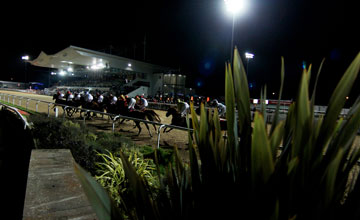 Racing at Dundalk was delayed by 44 minutes due to the dispute
PICTURE:
Patrick McCann (racingpost.com/photos)
Insurance dispute caused delay to Dundalk card

AFTER braving snow, sleet, rain, freezing conditions and high winds, last night's Dundalk meeting was almost claimed by a dispute that erupted 25 minutes before the opening race between the stalls handlers and HRI over insurance cover, forcing racing to be delayed by 44 minutes.
Earlier in the day, Pat Keating, the stall handlers' representative on the night, and a colleague John Lane are believed to have requested proof of insurance cover for his team on the night, but the certificate was not forwarded by HRI.
However, HRI chief executive Brian Kavanagh was keen to stress that verbal confirmation of the insurance cover was provided at 2pm and, as far as he was concerned, there was no uncertainty whatsoever about the matter.
Kavanagh said: "As far as I'm concerned, there is absolutely no uncertainty as regards insurance cover for the stalls handlers. There was dialogue during the day between the stalls handlers and HR manager David Wright, and HRI staff were fully satisfied that the issue was resolved upon leaving the office. We were not anticipating and problems or any threat to racing.
"All of our staff are covered for every single meeting. There is no question about that. They received verbal confirmation earlier in the day.
"There are ways and procedures to deal with these things and this was not the way it should have been dealt with. I would just like to apologise for any inconvenience that was caused by the delay in racing. The matter will certainly be dealt with next week."
After numerous negotiations between the stalls handlers they decided that they would carry out their duties on the night and racing went ahead almost three-quarters-of-an-hour later than planned.
It is believed that the uncertainty arose over an incident at Cork last autumn where a member of the stalls handling team was injured.
Pat Keating, representing the stalls handlers on the night said: "We were prepared to work this evening after getting written confirmation from HRI. But we'll have to have further talks with them early next week.
"Our lads need to be sure that they are fully covered by insurance for the work they do. We need to have this fully resolved before the next meeting here."