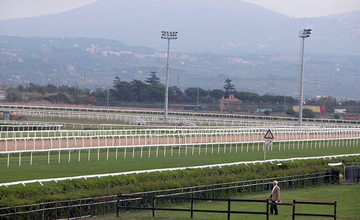 Capannelle racecourse in Rome plays host to the Group 3 Premio Parioli
Regarde Moi looks ready for Parioli success
Preview: Italy, Sunday 4.05pm BST
Capannelle: Premio Parioli (Group 3) 1m, turf, 3yo colts
REGARDE MOI holds a leading chance in the Premio Parioli (Italian 2,000 Guineas) on Sunday, as trainer Stefano Botti and jockey Fabio Branca look to improve on their second place 12 months ago, when Marshade beat all bar Worthadd.
Botti believes the son of King's Best has more star quality than Marshade had at this time last year, and said: "He is a classy colt, with plenty of speed, and there is still more improvement to come."
Regarde Moi, unplaced in his one appearance at two, would have been unbeaten in two three-year-old starts but for the intervention of the stewards here last month.
Having again madeall to record an impressive two-length victory over Doquet (Bruno Grizzetti/Dario Vargiu), the officials demoted him to third for what was the mostminimal of interference, as he drifted slightly left off the inside rail, to third-past-the-post Noir Lumiere.
"He was a bit green - the stewards were very hard on him," is Botti's view of the incident, one which will quickly be forgotten should he come home with his head in front on Sunday.
The task has been made easier by Bruno Grizzetti's decision to miss the race with unbeaten Cazals, who would probably have started favourite, to wait for the Poule d'Essai des Poulains (French 2,000 Guineas) at Longchamp on May 15.
Also missing from the 15-runner field is intended British-trained challenger Roman Eagle, found to be off-colour as he was about to leave Roger Varian's Newmarket yard for the trip to Rome.
In what looks an open year, there are still plenty of others who hold realistic prospects, including Al Rep (Daniele Camuffo/Sulas Salvatore), Free Winner (Bruno Grizzetti/Umberto Rispoli), Insciaveghen (Vittorio Caruso/Mirco Demuro), Samysilver (Gianluca Bietolini/Gabriele Bietolini), Tellovoi (Luigi Polito/Mario Esposito) and The Confessor (Luigi Riccardi/Cristian Demuro).
Of those, Al Rep will relish the likely good gallop and return to a mile - he finished with a real flourish to scythe down Hallo Heart and Noir Lumiere over 7f 110yds herelast month, a performance that gives him a very similar chance to Regarde Moi.
Also on Sunday
Capannelle: Premio Carlo Chiesa (Group 3) 6f, turf, 3yo+ f/m (4.25pm BST)
German-trained Rockatella (Werner Hefter/Dominique Boeuf) is the one to beat in a competitive sprint after recording a number of decent efforts in Pattern company last year.
Her most recent start was in Italy in October, when third at San Siro to British-trained pair Sajjhaa and Aspectoflove in the Group 3 Premio Sergio Cumani, while she also caught to eye when third to Via Medici in the Group 3 Prix de Lieurey at Deauville.
Many eyes will be on the lightly-raced three-year-old Sandslash (Luigi Riccardi/Fabio Branca), impressive winner of both her starts over 5f and 6f, but still regarded as a possible for the Premio Regina Elena (Italian 1,000 Guineas) on May 1.
Capannelle: Premio Botticelli (Listed) 1m21/2f 110yds, turf, 3yo c/g (3.10pm BST)
Highly-rated Figli Fanesi (Vittorio Caruso/Mirco Demuro) looks to put Derby Italiano plans back on track after his below-par reappearance when sixth to Sneak A Peak here last month.
Demuro did not give him a hard time that day, but he has to try and turn the tables on Tierra Del Agua (Fabrizio & Luigi Camici/Samuele Diane), Super Swellegant (Sebastiano Cannavo'/Pierantonio Convertino) and Leonardinho (Gianluca Bietolini/Gabriele Bietolini) who finished third, fourth and fifth respectively.
However, San Siro winner Bacchelli (Stefano Botti/Fabio Branca) and Capannelle winner Plushenko (Luigi Riccardi/Cristian Demuro) are progressive sorts, both of whom have the Derby Italiano on their agenda.
Capannelle: Natale Di Roma (Listed) 1m, turf, 4yo+ (5.00pm BST)
Le Vie Infinite (Roberto Brogi/Gabriele Bietolini), whose trainer bred this colt and his half-brother Rip Van Winkle, won three races here last year, and his recent second to Tauman suggests he could regain the winning thread on Sunday.
His nine rivals include Anuqet (Devis Grilli/Pierantonio Convertino), impressive winner of her last two races on the all-weather track at Capannelle, but also successful on this turf course.