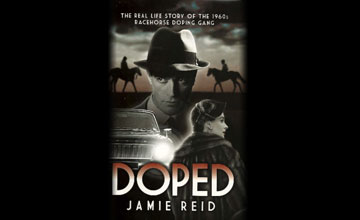 Doped: Jamie Reid's true story is "perfectly paced" said award judges
Doped wins William
Hill Sports Book prize
JAMIE REID'S Doped: The Real Life Story of the 1960s Racehorse Doping Gang was named the winner of the William Hill Sports Book of the Year Award on Wednesday night.
The "perfectly paced" book, published by the Racing Post, tells the true story of the rise and fall of an audacious gang of racecourse crooks who doped horses on an industrial scale.
William Hill spokesman Graham Sharpe said: "Jamie Reid's brilliantly constructed book lures the reader into his masterly recreation of late fifties/early sixties England in which social class counted for far more than workplace competence, nowhere more so than in the historically class-ridden world of horse racing.
"This background, generously scattered with sex and drugs and royalty, is the setting for a perfectly researched, paced and plotted unravelling of probably the most shocking, cynical, sustained attempt to dope – sometimes fatally – innocent racehorses and endanger jockeys for personal gain, to come to light in the 500 year history of the sport of kings, queens and commoners."
Reid said he had had several approaches regarding transferring the story to the big or small screen, adding: "We'll have to tell them the film rights will cost a bit more now."
Doped can be ordered for £15 from the Racing Post bookshop by calling 01933 304858.