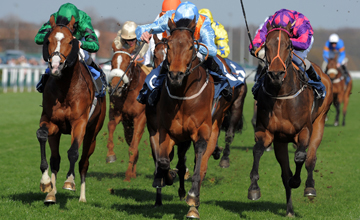 Doncaster: ground riding on the soft side on day one according to jockeys
PICTURE:
Martin Lynch (racingpost.com/photos)
Doncaster clerk hits back at ground critics
DONCASTER clerk of the course Jon Pullin has dismissed criticism of his watering policy ahead of this week's St Leger meeting.
Significant rainfall on Wednesday changed the going from good to firm to good, good to soft in places - with some jockeys reckoning it was very much on the soft side by the end of the afternoon.
Speaking before racing on Thursday, Pullin said: "We had a warm, dry week last week and we were 25C on Saturday and Sunday, which was when we were watering.
"On Sunday morning we assessed the forecast and that was the first indication we had got of rainfall on Wednesday so we
backed off the watering at that stage, just finished off on Monday evening everything up. No watering took place after Monday.
"Walking it yesterday before racing with an experienced chairman of the stewards and another clerk of the course we were all in agreement that it was on the quicker side. We got the rain during racing and it sat on the top and they kicked the top out but they weren't going too far in and they weren't making too many prints.
"We rolled the track last might and cut it this morning. I am fairly certain it will ride on the easy side still and they will probably kick the top out again today, having raced ion it yesterday and opened it up, but I wouldn't be surprised if by the end of the day it was good ground. It will dry a little bit - we dry fairly quickly here."