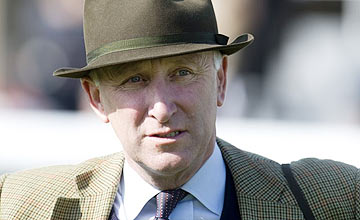 Oliver Sherwood and Leighton Aspell have had their appeal rejected
PICTURE:
Getty Images
Sherwood feels like 'packing up' after appeal
A FRUSTRATED Oliver Sherwood said he felt like handing in his training licence after his and jockey Leighton Aspell's penalties were upheld for failing to run a horse on its merits at Hereford on December 5.
"I do feel like packing up, I really do. I'm at my lowest of low right now," said Sherwood after the hearing at which the disciplinary panel upheld the original stewards' decision that Furrows, ridden by Apsell and trained by Sherwood, appeared to be "tenderly ridden" in the 2m novices' chase won by Vulcanite.
The panel said there was no discernible effort from the jockey and it was a confidence-boosting run.
The original penalties were also upheld on Thursday. Sherwood was fined £3,000 while Aspell faces a 14-day suspension. The horse was also banned from running in any races from December 7 until January 15.
Sherwood said: "I might as well retire the horse now because he can't be ridden the way he needs to be. I'd have been delighted if we had won - forgetting ratings and all that. I think this is just a test case."
That comment was a reference to the change in novice chase rules, which require horses of limited ability and experience to make their fencing debut off level weights, often against higher-rated rivals.
"The NTF are going to have a meeting, I hope about this ruling, because it's so wrong and it's unfortunate that we are piggies-in-the-middle," Sherwood added.
They think they know how to ride the horse better than Leighton and than me how to train the horse. How many times have they ridden in races? They don't know."
Aspell said: "I'm extremely disappointed with the findings. Fourteen days at any time of the year is tough but especially at this time of the year when we're at our busiest and Oliver's horses are running so well. I'm a family man - this is going to hit me hard."
Solicitor Rory Mac Neice, who represented the defendants, added: "The rules don't allow any flexibilty to take into account what you are seeing on the film. In this case the horse was ridden in a very similar way to as when he won at Wincanton.
"Leighton had a decision to make coming down to the third last: does he send the horse after vastly superior horses and run the risk of not obtaining the best possible placing or does he ride the horse using his knowledge and experience of the horse to get the best place."