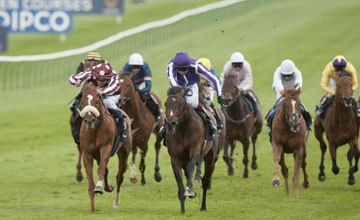 Camelot has won the 2,000 Guineas, Derby and Irish Derby this year
PICTURE:
Edward Whitaker (racingpost.com/photos)
Dettori to ride Camelot in Arc recovery mission
CONNECTIONS of Camelot on Wednesday confirmed the star three-year-old for the Qatar Prix de l'Arc de Triomphe with Frankie Dettori booked to ride.
The complexion of the Longchamp spectacular has changed vastly in recent days, with the 'will he, won't he' question hanging over the three-time Classic winner just one sub-plot to the ante-post drama that has surrounded Sunday's race.
But trainer Aidan O'Brien finally gave the son of Montjeu the go-ahead with Dettori, stable jockey to arch rivals Godolphin, a rare jockey booking for Ballydoyle. Joseph O'Brien, who has partnered Camelot on every start to date, will be on St Nicholas Abbey as he is unable to ride at 8st 11lb.
Dettori, who has not ridden for O'Brien since winning the 2005 St Leger on Scorpion, said: "It's a real honour to be chosen to ride the Guineas and Derby winner in the Arc. A couple of high-profile horses haven't made the race so he's right up there at the head of the betting.
"It's a shame this year that Godolphin don't have a horse in the race but it's an honour for me to be asked to ride the horse and I'm really looking forward to it.
"Let's hope the horse is in tip-top shape. It's been a long season but if the Camelot turns up we know he should have a really good chance."
Dettori has won the race three times - on Lammtarra (1995), Sakhee (2001) and Marienbard (2002) - and Sunday will be his 25th consecutive ride in the race. "I'm really excited. It's a really good record, 25 Arcs in a row, so I'm looking forward to it," he told Racing UK.
In another twist to the Arc landscape that has seen two of the three co-favourites - Danedream and Nathaniel - miss the race, along with the well-fancied Snow Fairy, rumours circulated on Wednesday morning that German filly Danedream may be in line for a shock return to the fold, prompting a gamble from 1,000 on Betfair into 10.
However, Patrick Barbe, spokesman for part-owner Teruya Yoshida, said on Wednesday afternoon: "I spoke to the owner an hour ago and he didn't mention it. From my side there is no substance in the rumour because of the travel restrictions on horses in Cologne.
"There is always a possibility, but the chances are one in a million unless the German Jockey Club say they made a mistake."
Later in the day, Danedream's trainer Peter Schiergen and part-owner Heiko Volz released a statement which read: "We learnt on Monday afternoon that Cologne racecourse, where Danedream is stabled at Peter Schiergen's yard and
where she had only just completed her final preparation in view of another start in the Arc, was quarantined with immediate effect.
"We immediately contacted the relevant authorities and veterinaries to see if there was anything that could be done to allow her to take her chance in Paris on Sunday, but unfortunately we, as everyone else concerned at Cologne racecourse, have to abide by the rules and accept that she will not be travelling to Longchamp.
"We, as well as everyone who has worked with or looked after Danedream, are absolutely devastated.
"Questions will have to be asked in the future how this situation could arise in the first place at a track that is Germany's major training centre. So many people are concerned, so many dreams shattered.
"However, we have received tremendous support from so many people and we would like to thank everyone for all the heartfelt messages that were sent. Danedream will always be special and she will always be an Arc winner. For that, we will always be grateful."