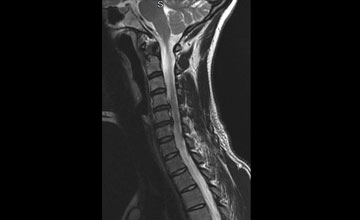 MRI image of the disc pathology in Kirsty Milczarek's neck before surgery
Milzcarek eyes return after spinal surgery
KIRSTY MILCZAREK is hoping to get back on a horse in February with an expectation that a recent major operation on her spinal cord will enable her to resume an interrupted riding career.
Milczarek has been absent since suffering what turned out to be a serious injury at Brighton in October, but after undergoing major surgery last week is now encouraged that she could be back in the weighing room in time for the new turf Flat season.
She said: "I damaged my neck in a stalls incident and jammed the third, fourth, fifth and sixth discs in my spinal cord.
"I was operated on through the front of my neck and the discs have been fully removed and replaced. It's amazing what can now be done and I'm so grateful to all the great people at BMI Woodlands in Darlington and their spinal surgeon Daniel Fagan.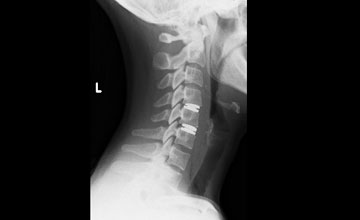 The post-operative x-ray shows the new discs in Milczarek's neck
"I've had lots of support from James Toller, Luca Cumani and John Ryan, as well as my sponsor GBI Racing, so I'll be sensible and look to get back on a horse in February.
"I'll begin using the excellent facilities at Oaksey House in the new year. I won't know for sure how I'm going to be until I start having physio, but nobody I've consulted expects there to be a problem."
Milczarek, 29, posted a tally of 21 winners from 261 rides this year, with her prime source of success being Cumani, for whom she came home in front 13 times.
She enjoyed her biggest victory of the season on the Toller-trained Rewarded in Goodwood's Listed Festival Stakes.