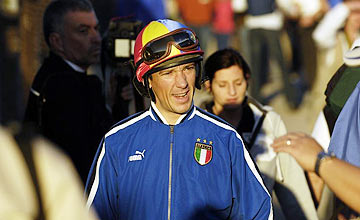 Frankie Dettori: talked to Clare Balding and admitted to taking cocaine
PICTURE:
Edward Whitaker (racingpost.com/photos)
Dettori admits in C4 interview to cocaine use
FRANKIE DETTORI has admitted for the first time that he took cocaine in a television interview with Clare Balding, to be broadcast on Channel 4 News at 7pm on May 16.
"I'm very ashamed and embarrassed, and paid a very big price for it, you know. I spent six months not doing the thing that I love, racing," Dettori told Channel 4 News.
"Things were going bad, I was depressed and I guess a moment of weakness and I fell for it and I've only got myself to blame. I can't blame anybody else.
"The embarrassment of when it come out, I had to hide in my house for a week. The paparazzi outside. The embarrassment of telling the children, you know. You know they still go to school, they might get bullied and so it was a very, very difficult time."
The 42-year-old, who is set to return to action at Leicester on May 20 where the course will run a race named in his honour, tested positive at Longchamp on September 16 with the ban effective from November 20, the date of Dettori's original hearing in front of a medical commission.
Dettori has often held his hands up and accepted the ban, describing it as "a moment of madness", but had always avoided confirming the substance for which he tested positive was cocaine. But pressed by Balding, Dettori talks about his cocaine use and its impact for the first time in an interview that also covers the steroid scandal that has engulfed his former employer Godolphin.