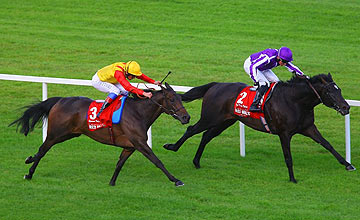 So You Think had to dig deep to repel Snow Fairy in Irish Champion Stakes
PICTURE:
Patrick McCann (racingpost.com/photos)
Delay to So You Think plans could be a negative
WORLD CLASS: an analysis of the international scene according to Racing Post Ratings
THE guessing and speculation over So You Think's autumn campaign is almost at an end, but you have to wonder whether the delay in race selection might detract from his performances on the track.
It's all very well talking him up for races from a mile to 1m4f and implying he could be successful down many different avenues, but you would hope that, at least behind closed doors, there has always been a plan.
You don't win championship races as an afterthought – no matter how good the horse is – and the longer his options are kept open the less time the Ballydoyle team have to prepare him for any specific race.
The reason Andre Fabre has such a good record in the Arc is because he targets all of his best middle distance horses at it, runs them all in the key trials and gears his whole season around that one race.
The reason Frankel is unbeaten (as well as being a freak) is that Sir Henry knew after every start where the next start would be and trained the horse accordingly, even taking account of how they would need to ride him next time.
The unbeaten Black Caviar has her next three races mapped out already: Schillachi Stakes (October 8), Moir Stakes (October 22), Patinack Farm Classsic (Nov 5).
But with So You Think, there is less than four weeks until Europe's premier race and still (at the time of writing) we don't know whether the highest-rated horse is an intended runner.
The one counterbalance to this freestyle race planning is that the New Zealand-bred always gives his best and should run to 128ish even without a specific training regime.
But when they get the timing and riding right they can get even more out of him – like in the Eclipse, which came 17 days after his blowout in the Prince Of Wales's Stakes.
He had a hard race at Royal Ascot and it brought him on perfectly for the Eclipse, which came at just the right time. He was also ridden with a plan and the result was a winning RPR of 132.
To winan Arc or a Breeders' Cup Classic, that Eclipse performance is the one he will need to replicate – these end-of-season championship events are generally the best in the world and 128 may not be enough.
Those few pounds can make all the difference and they are the reason, from a punting point of view, why it is best to shortlist horses who have been aimed at a specific race.
In being such a versatile individual, this problem of having too many options has, in some ways, been brought about by the horse himself, but his other asset is his durability and that might just compensate and allow him to duke out whatever program is arranged for him in the coming months.
On Saturday he didn't win by far, but it wasn't so much a below-par run from So You Think as a cracking effort from Snow Fairy, with the globetrotting Group 1 winners pulling six-lengths clear of their rivals in the Irish Champion Stakes.
So You Think ran to the level you'd expect of him on his return from a two month break, beating Famous Name by a similar distance to that which separated them in the Tattersalls Gold Cup back in May.
But with Snow Fairy pushing him all the way to the line this ranks as a career best effort on the figures for Ed Dunlop's filly, who finished just half a length off the New Zealander.
Snow Fairy hasn't had many opportunities against the colts. There were obvious excuses in the St Leger (distance) and the Eclipse (needed run) and her only other run against colts came in the Hong Kong Cup, which she won.
There are bits and pieces of form which indicated she would be capable of this sort of figure under perfect conditions, but nothing which quite matches up to this.
She has gradually improved this season and the decent pace at Leopardstown on the weekend helped her step up form her previous start, when second to Midday in a muddling Nassau Stakes.
An RPR of 123 puts Snow Fairy level with Midday on 2011 form (although Midday earned a 124 last year) and Dunlop's filly looks worth another crack at Sir Henry Cecil's mare on this showing.
First impressions were that this was not a great effort from So You Think, but there was not a lot wrong with it, other than the winning distance being slightly shorter than expected. The positives to take from the race are that he dug in when Snow Fairy cruised into contention and he did well to fend off that strong-finishing filly and extend away from the remainder.
He should come on a touch for this run and connections will probably look to target at least two end-of-season events inthe northern hemisphere after ruling out a trip to the Cox Plate.
This win was worth an RPR of 127+ for the winner, which is just below what we have come to expect from him, but enough to suggest he is still on for a solid autumn campaign.
He wouldn't be the first Irish Champion Stakes winner to slightly underperform on the day. Recent examples include New Approach, who was only half-a-length ahead of Traffic Guard in the 2008 renewal before going on to win the Champion Stakes by six lengths, and Dylan Thomas, who was only three-and-a-half-lengths ahead of the third-placed Red Rock Canyon in 2007 before going on to win the Arc.
While the Irish Champion Stakes does not always produce great formlines, it does produce top notch winners and So You Think is a worthy addition to the roster.
If there was a disappointment for the Ballydoyle team at Leopardstown on Saturday it was probably Misty For Me, who was a short price favouritefor the Matron Stakes, but was well and truly put in her place by Emulous.
Misty For Me was favoured for the Matron based on the strength of her Pretty Polly success at the Curragh back in June, when she defeated Midday by six lengths, but that race is not an easy one to assess.
Misty For Me was three-lengths up turning for home in the Pretty Polly and was undoubtedly best placed up front.
Although she managed to pull even further clear, the distances were exaggerated by the soft ground and the winning time was actually slower than the 1m2f maiden on the card, won by Freedom with an RPR of 91.
Misty For Me earned an RPR of 121 in the Pretty Pollyand she is worth another chance to match that effort back on soft ground over 1m2f, but Saturday's disappointing third place (RPR 110) does put another question mark over the Curragh form.
Emulous (120+) was an impressive winner of the Matron,quickening up well from last at the top of the straight before sauntering to a three-length win over dual-Guineas runner-up Together (112).
Another filly stole the show in America on Saturday, when Havre De Grace followed in Rachel Alexandra's footsteps by becoming just the second distaffer to land the Woodward Stakes.
With her 3lb fillies' allowance, the winner was clear on the pre-race ratings, but this was still a solid effort stepping in against males for the first time.
Havre De Grace matched her Delaware Handicap RPR of 123 in success, with Flat Out (123+) also making his case for the Breeders' Cup Classic by staying on for second ahead of the pacemaking Rule.
Including her mares allowance Havre De Grace is now narrowly the top rated of the likely Classic contenders, with the likes of Await The Dawn, Twirling Candy and Tizway just a pound behind on 125.
The Classic still looks open to an improver, however, and something like Flat Out could fit the bill if So You Think goes elsewhere.
He's the sort of progressive type (figures improving, staying on against the best over 1m1f) that would make the frame in a normal year.
This year he is close enough to the leading contenders to be in with a shot at the win.

TOP OF THE CLASS: So You Think 127+ Aidan O'Brien (Ire) (Irish Champion Stakes, Leopardstown, 1m2f, September 3)
Overall World Top Ten
| | | | |
| --- | --- | --- | --- |
| | Name (country trained) | Race | Rating |
| 1 | Frankel (GB) | Sussex Stakes | 137T |
| 2 | Black Caviar (Aus) | Newmarket Handicap | 133T |
| 3 | So You Think (Ire) | Eclipse | 132T |
| 4 | Workforce (GB) | Eclipse | 131T |
| 5 | Canford Cliffs (GB) | Queen Anne | 130T |
| | Rewilding (GB) | Prince Of Wales's Stakes | 130T |
| 7 | The Factor(US) | Pat O'Brien Stakes | 129A |
| 8 | Hay List (Aus) | All Aged Stakes | 127T |
| | Rocket Man (Sing) | Lion City Cup | 127T |
| | Twice Over(GB) | International | 127T |
Top Turf Performers
| | | | |
| --- | --- | --- | --- |
| | Name (country trained) | Race | Rating |
| 1 | Frankel (GB) | Sussex Stakes | 137 |
| 2 | Black Caviar (Aus) | Newmarket Handicap | 133 |
| 3 | So You Think (Ire) | Eclipse | 132 |
| 4 | Workforce (GB) | Eclipse | 131 |
| 5 | Canford Cliffs (GB) | Queen Anne | 130 |
| | Rewilding (GB) | Prince Of Wales's Stakes | 130 |
| 7 | Hay List (Aus) | All Aged Stakes | 127 |
| | Rocket Man (Sing) | Lion City Cup | 127 |
| | Twice Over (GB) | International | 127 |
| 10 | Goldikova (Fr) | Queen Anne | 126 |
| | Excelebration (GB) | Hungerford Stakes | 126 |
| | Nathaniel (GB) | King George | 126 |
| | Whobegotyou (Aus) | Rokk Ebony Futurity | 126 |
Top Dirt Performers
| | | | |
| --- | --- | --- | --- |
| | Name (country trained) | Race | Rating |
| 1 | Animal Kingdom (US) | Kentucky Derby | 126 |
| 2 | Big Drama (US) | Mr Prospector Stakes | 125 |
| | Tizway (US) | Whitney Hcap | 125 |
| 4 | Uncle Mo (US) | Timely Writer | 124 |
| | Jackson Bend (US) | Forego Stakes | 124 |
| 6 | Trappe Shot (US) | True North Hcap | 123 |
| | Smart Falcon (Jap) | Teio Sho | 123 |
| | Stay Thirsty (US) | Travers Stakes | 123 |
| | Flat Out (US) | Woodward | 123 |
| | Havre De Grace (US) | Delaware/Woodward | 123 |
Top AW Performers
| | | | |
| --- | --- | --- | --- |
| | Name (country trained) | Race | Rating |
| 1 | The Factor (US) | Pat O'Brien | 129 |
| 2 | Smiling Tiger (US) | Triple Bend Handicap | 126 |
| | Rocket Man (Sing) | Golden Shaheen | 126 |
| 4 | Acclamation (US) | Pacific Classic | 125 |
| | Twirling Candy (US) | Hollywood Gold Cup | 125 |
| 6 | Twice Over (GB) | Al Maktoum Challenge R3 | 123 |
| 7 | Game On Dude (US) | Hollywood Gold Cup | 122 |
| | Sidney's Candy (US) | Mervyn Leroy Hcap | 122 |
| 9 | Crown Of Thorns (US) | Mervyn Lero/Pat O'Brien | 121 |
| | Euroears (US) | Bing Crosby | 121 |