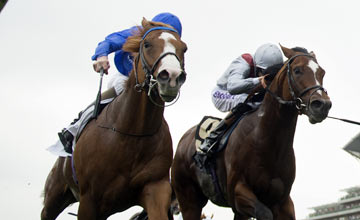 Dawn Approach (left) beats Toronado at Royal Ascot
PICTURE:
Edward Whitaker (racingpost.com/photos)
Top two make the mile division piping hot
SHEIKH MOHAMMED was quick to proclaim Dawn Approach "the best miler in the world" after the colt edged a marginal verdict in the St James's Palace Stakes. A short head away in second was Toronado, whose connections were crestfallen.
To the naked eye there was nothing in it. After a thrilling battle of gritted teeth, raised whips and duelling nostrils they flashed by as one. In the end we needed a man in a box with a camera to tell us who nosed it.
The winner received all the fanfare, the trophy presentation and the headlines. He picked up over double the prize-money of the runner-up, had his name added to the honour roll, had another Group 1 win added to his stallion page, goes two-nil up in the head-to-head and he lapped up all the post-race plaudits.
This must be what Abba meant about the winner taking it all.
The brief game of equine bumper cars two furlongs out would certainly have altered the freeze-frame from which we declared one horse superior to another.
When the judge called it - first number one - interest in the result magically transformed from 'who won' into 'look who won'.
All hail the returning king; the favourite did it. He bounced back just 17 days after finishing last in the Derby, the champ is back, etc.
Well done to the winner and all that, but this response shows just how fickle we can be as an audience when a half-a-yard movement of the winning post would have sent us into a tiz over Toronado.
The Dawn Approach camp were over the moon.
"The gamble paid off", they said, having brought him back after his Derby defeat. They're right. It did pay off, just.
The Toronado camp were dejected. Jockey Richard Hughes thinks he could have found an extra length if he hadn't been knocked off stride during the bumping (which also impeded Dawn Approach).
Sadly for Hughes they were bumped and the line on the Berkshire turf which designates winners and losers happened to arrive at a point when Dawn Approach was fractionally ahead.
Of course it was nice for the favourite to win and great to see Dawn Approach back in the groove after running like a turkey in the Derby and getting stuffed. But this race was not about one horse lording it, no matter how narrowly, over another. It was about two high-class horses pounding out the type of guts-for-glory finish which often precedes an epic rivalry.
Winning connections clearly feel their horse is the best miler in the world, but with Toronado finishing so close they have to defeat him again - in a clean race - to prove it.
As the two horses move through their three-year-old season the rivalry could go one of two ways. Firstly Dawn Approach may simply have a class edge. Those who believe he was headed last week and battled back to assert his authority might suspect the winner will always find a way to finish ahead of the runner-up because he is the best. Tornado good, Dawn Approach better.
But an equally plausible scenario is that the burly and progressive Toronado could be just developing into his hulking new frame and as the season grinds on he may eventually surpass last season's precocious champion juvenile Dawn Approach.
Fingers are firmly crossed that a rematch is on the cards in the Sussex Stakes at Glorious Goodwood next month, which should tell us which way the tug of war is heading. Another match up, if required, could be framed for the Queen Elizabeth II Stakes on Champions Day.
Both horses earned RPRs of 126+, which happened to be the highest ratings of the week at Royal Ascot. Equality. Finally.
Although Toronado may have suffered a disproportionate response to his latest performance, the rest of the season should prove a lot more fruitful, wherever he runs. He looks well capable of landing a championship race or two.
When Frankel retired they said we'd never fill the void. Yet here we have a match-up which keeps the mile division as piping hot as it was even in the presence of Sir Henry Cecil's legend. And there's an added factor this year that the greatest horse to walk the turf never had: competition.
'Thinking' about the Arc

Thinking horses come with a distinct element of risk attached. At any moment mid-race they could decide to stop, take in the scene, have a nibble of grass, flick their ears, have a scratch against the rail. What's that over there? I hear birds. Where are those horses going? Who's this on my back? Oh yeah, racing.
Orfevre is a thinking horse. He showed his 'thoughtfulness' a number of times in his career, much to the dismay of punters. His most memorable act came in the Arc, where he threw away victory to finish second.
Well, now it seems Japan has another thinker - and another good one - in the shape of the second-best horse in the country: Gold Ship.
On Sunday Gold Ship ran one of his better races, winning the Takarazuka Kinen, a race which Orfevre missed after bleeding in training.
The Hanshin contest featured the best horses in Japan with the exception of Orfevre and in winning by three and a half lengths Gold Ship made a realistic play for the top spot.
The problem with this ever-mindful four-year-old is the attitude he displayed on his previous start in the Tenno Sho Spring. He finished fifth that day with a very laboured effort. Afterwards jockey Hiroyuki Uchida described the performance by saying "sometimes he doesn't feel like racing".
Connections had a good think themselves about that run and changed things on Sunday. The jockey rode him in training to assist communication and they decided to race him more prominently to get him involved and interested.
The changes brought about a turnaround in form, but it still wasn't plain sailing with Uchida needing to roust him along early to get him up to a handy racing position alongside the favourite Gentildonna.
Once he was there and settled it was business as usual. When they straightened up he left Gentildonna standing and cruised clear for a cosy success.
The win was worth an RPR of 126. He hit 128 when winning the Arima Kinen in December, which has to bring him into the Arc picture, especially given the trainer's assertion that he is better on an easier surface. He will need supplementing for Longchamp, however, and there is still that nagging worry he might start thinking again.
Gentildonna could finish only third on the weekend, validating concerns about her failing to train on as a four-year-old. She raced in a similar position to the winner throughout and had no answers in the straight.
We're not advising bets on the Arc yet - it's June for goodness sake - but after this latest piece of the Longchamp puzzle I'm still leaning towards Orfevre, who has shown he has what it takes to both secure the Arc and throw it away, which he might. There are obvious risks attached, but isn't that half the fun?
Can Cirrus come back?
Cirrus Des Aigles is the highest-rated horse in the world judged on last year's form but he started 2013 well below that level at Saint-Cloud on Sunday, posting an RPR of 112. He should get better. The question is by how much?
There are two points here though. Firstly, Flat horses normally get worse at the age of seven, but he normally progresses throughout the season.
Where those two meet is anyone's guess, although after watching him fade to fifth in the Grand Prix de Saint-Cloud you wouldn't bank on him ever hitting his peak of 132 again.
He had every chance to win at the weekend. He was in front turning in and in the past has piled on the pressure from that position, simply drawing further and further clear. This time, however, he got picked up by a couple of horses who are yet to win a graded race.
It's easy to be disappointed by Sunday's run but there is faint hope for fans of the gelding, as he started last season with the same RPR of 112 and still went on to push Frankel in October.
With the favourite well below his best the race rather fell apart. It was a compressed finish with plenty of form-limiters in the frame. Novellist won with an RPR of 119.
Looking ahead
The column advised Wokingham winner York Glory at 25-1 as the best bet at Royal Ascot last week. This week we're looking to roll that success over onto another big handicap.
Tiger Cliff ran a blinder to finish second in the Ascot Stakes last week and he can make amends in the Northumberland Plate on Saturday.
TOP OF THE CLASS: Dawn Approach 126 Jim Bolger (Ire)/Toronado 126 Richard Hannon (GB) (St James's Palace Stakes, Royal Ascot, 1m, 18 June)
TOP LIST
| | | | |
| --- | --- | --- | --- |
| | Name (country trained) | Race | Rating |
| 1 | Black Caviar (Aus) | Lightning Stakes | 128T |
| | Fort Larned (US) | Stephen Foster Hcap | 128D |
| | Game On Dude (US) | Santa Anita Hcap | 128D |
| 4 | Dawn Approach (Ire) | 2,000 Guineas | 127T |
| 5 | Farhh (GB) | Lockinge Stakes | 126T |
| | Gold Ship (Jap) | Takarazuka Kinen | 126T |
| | St Nicholas Abbey (Ire) | Coronation Cup | 126T |
| | Toronado (GB) | St James's Palace | 126T |
| 9 | Animal Kingdom (US) | Dubai World Cup | 125A |
| | Orfevre (Jap) | Osaka Hai | 125T |
TOP TURF PERFORMERS
| | | | |
| --- | --- | --- | --- |
| | Name (country trained) | Race | Rating |
| 1 | Black Caviar (Aus) | Lightning Stakes | 128 |
| 2 | Dawn Approach (Ire) | 2,000 Guineas | 127 |
| 3 | Farhh (GB) | Lockinge Stakes | 126 |
| | Gold Ship (Jap) | Takarazuka Kinen | 126 |
| | St Nicholas Abbey (Ire) | Coronation Cup | 126 |
| | Toronado (GB) | St James's Palace | 126 |
| 7 | Orfevre (Jap) | Osaka Hai | 125 |
| 8 | Al Kazeem (GB) | Prince of Wales's | 124 |
| | Magician (Ire) | Irish 2,000 Guineas | 124 |
| | Point Of Entry (US) | Gulfstream Park Turf Hcap | 124 |
| | Society Rock (GB) | Duke Of York | 124 |
| | Wise Dan (US) | Maker's 46 Mile Stakes | 124 |
TOP DIRT PERFORMERS
| | | | |
| --- | --- | --- | --- |
| | Name (country trained) | Race | Rating |
| 1 | Game On Dude (US) | Santa Anita Hcap | 128 |
| | Fort Larned (US) | Stephen Foster Hcap | 128 |
| 2 | Ron The Greek (US) | Sunshine Millions Classic | 124 |
| 3 | Dreaming Of Julia (US) | Florida Oaks | 122 |
| | Orb (US) | Kentucky Derby | 122 |
| | Palace Malice (US) | Belmont Stakes | 122 |
| | Royal Delta (US) | Sabin Stakes | 122 |
| | Sahara Sky (US) | Met Mile | 122 |
| 8 | Flat Out (US) | Westchester Stakes | 121 |
| | Graydar (US) | Donn Handicap | 121 |
| | Ultimate Eagle (US) | San Pasqual | 121 |
TOP ALL-WEATHER PERFORMERS
| | | | |
| --- | --- | --- | --- |
| | Name (country trained) | Race | Rating |
| 1 | Animal Kingdom (US) | Dubai World Cup | 125 |
| 2 | Mental (UAE) | Al Shindagha Sprint | 121 |
| 3 | Red Cadeaux (GB) | Dubai World Cup | 120 |
| 4 | African Story (UAE) | Burj Nahar | 119 |
| 5 | Comma To The Top (US) | Los Angeles Handicap | 118 |
| 6 | Hunter's Light (UAE) | Al Maktoum Challenge R2/3 | 116 |
| | Reynaldothewizard (UAE) | Mahab Al Shimaal/Golden Shaheen | 116 |
| | Soft Falling Rain (SAF) | Godolphin Mile | 116 |
| 9 | Balmont Mast (IRE) | Al Maktoum Challenge R1 | 115 |
| | Essence Hit Man (Can) | Jacques Cartier Stakes | 115 |
| | Moonwalk In Paris (UAE) | Firebreak Stakes | 115 |