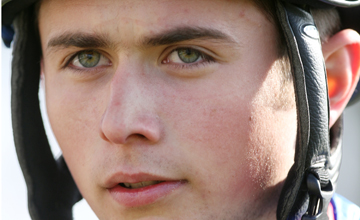 Darren Egan: has had his licence reissued by the BHA
PICTURE:
Patrick McCann (racingpost.com/photos)
Egan granted licence following BHA probe
APPRENTICE jockey Darren Egan has been reissued his licence after the conclusion of a BHA investigation that kept him off the track for almost two months.
Egan, one of Britain's most talented young jockeys, was subject to an investigation after applying to switch his licence from Ron Harris, for whom he had not ridden since May 23, to Newmarket trainer John Butler.
On Friday, seven weeks after the application was made, the BHA released a statement saying Egan had been given the green light to ride again.
The precise circumstances of the investigation remain unclear.
A BHA statement said: "In all cases when an apprentice jockey applies to move from his existing yard to the care of a new trainer, the BHA conduct certain standard procedures to ensure the interests of the parties involved are protected.
"In this case, while carrying out these checks concerns arose regarding the circumstances of the requested move. These concerns needed to be allayed before the licence application could be approved.
"In addition, while clarification on these matters was being sought, Egan was asked to provide other information in relation to an on-going enquiry, which was also deemed relevant to his application.
"That information was provided earlier this week and following consideration BHA are now in a position to re-issue Egan's licence."
The BHA statement provoked a forthright response from Paul Struthers, chief executive of the Professional Jockeys Asscociation.
Stuthers tweeted: "Darren Egan has been issued his licence having handed phone records (as well as electronic ones previously given) and been interviewed.
"[I] maintain BHA have acted in a plainly unjust manner and the last three [paragraphs] of their statement patently misrepresent the actual facts.
"To try to claim that this was all quite normal and to imply they the delay was due to 'information' being received this week is disingenuous."