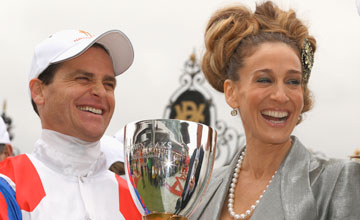 Jockey Danny Nikolic (left) is among those under investigation by police
PICTURE:
Getty Images
Racing chief backs fixing enquiry linked to murder
Australia: Racing Victoria chief executive Rob Hines has welcomed the police investigation into potential race fixing linked to the murder of former trainer Les Samba last year while stressing it is one race under scrutiny.
Hines said that the investigation is "genuinely a one-off" and that there is "not endemic corruption in the sport".
Former champion jockey Danny Nikolic is among a number of top Australian racing figures under investigation for alleged race fixing involving a horse named Smoking Aces where allegedly two other jockeys were to ride in a style that would hamper the favourite's chances and boost Smoking Aces' hopes of winning. Up to A$200,000 (£135,00) is thought to have been made by the conspirators.
The alleged fix - involving one race run at Cranbourne in April 2011 - was uncovered as police investigated the murder of ex-trainer Les Samba, who was shot in the head and body in Melbourne last year. Samba had links with an accused Sydney murderer and Melbourne underworld figures.
Hines said: "We welcome Victoria Police's renewed focus on racing related crime and reiterate the need for a collaborative approach to limit the opportunities for illegal activities in our sport.
"The allegation pertains to one race at Cranbourne and we are now waiting for the Victoria Police investigation to reach a stage where we can legally obtain information that can be used as evidence to open a stewards' inquiry.
"Racing is a huge industry and the majority of people who participate and interact with our sport do so in a legitimate manner, but, as in all walks of life, there will always be a small minority who attempt to break the rules. That is why we invest significantly in our Integrity Department."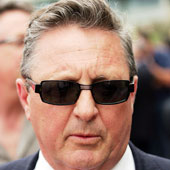 Lee Freedman: unimpressed
PICTURE:
Getty
He added: "Over recent years our Integrity Department has significantly boosted the review of betting patterns to complement the stewards' raceday review of the conduct of over 4000 races run annually, all of which occurs under the auspices of the Australian Rules of Racing. Every year we spend over $4 million to maintain the integrity of Victorian racing."
However, leading trainer Lee Freedman disagreed with Hines's views and wrote on Twitter: "The $4mil spent by RVL on integrity is grossly inadequate, and I suspect Racing NSW may be the same."
Racing Victoria's chief steward Terry Bailey said the race under investigation had been inquired into by stewards as far as they were allowed. He added:"Those that have taken this story hook, line and sinker should look at the timing of it. The suggestion that this [incident] is related to the murder enquiry looks a little unusual when the murder was in February and the race was in April."
Nikolic, who has partnered such stars as Starspangledbanner, Reset and Mummify, was married to Samba's daughter Victoria - although the two were separated by the time of the murder.
Victoria Detective Senior Sergeant Stephen Cooper confirmed on Monday that race fixing may have been a motive for Samba's murder. A reward of A$1m (£677,000) for information leading to the arrest of Samba's killers has been offered.