Nikolic won $60,000 with online account
Australia: Jockey Danny Nikolic, who was last year handed a two-year ban for threatening a steward, reportedly had an online account run by a third party to win $60,000 on a race in 2011, it has emerged.
The account was registered to a third party in Queensland, designed to hide Nikolic's betting activities. The revelation follows the findings of a report into race-fixing which was overseen by Victorian racing integrity commissioner Sal Perna.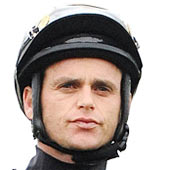 Danny Nikolic: serving long ban
PICTURE:
AAP Racing
Perna recommended that the rules of racing be changed to make betting by jockeys a serious offence, which carries more severe penalties.
Fellow jockey Damien Oliver is currently suspended for ten months after admitting that he bet on a rival horse in 2010.
Perna's investigation concluded that race-fixing is not a problem, but the culture of jockeys betting needs to be tackled.
"There is an acceptance that most, if not all, jockeys bet and such behaviour is condoned," Perna said. "It is conduct that undermines public confidence. The ability to place lay bets has compounded the perception."
Perna's recommendations will be supported by the Australian government.