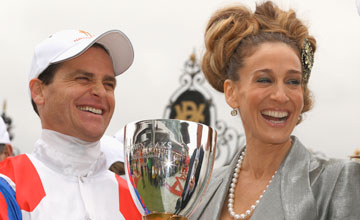 Danny Nikolic with Sarah Jessica Parker after winning the Crown Oaks
PICTURE:
Getty Images
Jockey Danny Nikolic banned for two years
Australia: The colourful and successful career of jockey Danny Nikolic is in turmoil after he was disqualified for two years from all involvement in racing.
Nikolic was found guilty of two charges relating to "contemptible and sinister" threats he made against Victoria's chief steward Terry Bailey and his family.
The latest charges come at the end of a string of offences in which Nikolic has displayed contempt for authority, two of which have resulted in fines of $10,000 and $2,000 and substantial sentences.
He is also at the centre of race-fixing allegations under investigation by Victorian police and is due to face court this month on charges of assaulting another jockey and the jockey's partner.
Victoria's Racing Appeals and Disciplinary (RAD) Board found Nikolic guilty of abusing and threatening Bailey at the Seymour race meeting on September 4.
The RAD Board accepted Bailey's evidence that Nikolic had approached him on the racecourse following an earlier confrontation between the pair and said: "We all have families c*** and we know where yours lives c***."
Nikolic, 37, maintained his innocence throughout, telling the board it had been Bailey who made a threat, vowing to end his riding career.
Lawyer Sandip Mukerjea, for the stewards, described Nikolic's behaviour at Seymour as a continuation of his "blatant disrespect and contempt for authority".
In particular, Nikolic had a long-running history of confrontation with Bailey.
"There is a natural order in the racing industry and the stewards are the custodians of that order and of the integrity of racing," Mukerjea said.
"If that order is compromised or eroded the law of the jungle would prevail."
He told the three-man RAD panel the circumstances surrounding the Seymour incident added to the sinister and serious impact of Nikolic's threats which had deliberately been delivered in the absence of witnesses.
Mukerjea said that at an inquiry on the day into Nikolic's earlier behaviour at Seymour, the jockey had issued an implied threat and been "defiant, almost sarcastic" when he placed his feet on the stewards' room table while being questioned.
In his submission on the penalty, Nikolic's lawyer Sandy Robertson called on the board to impose a suspended sentence and to "take a chance" on his client who he said was at the twilight of his career.
Robertson suggested a suitable penalty would be a 21-day suspension.
"It is open to the board to take a chance with this man, to be compassionate," he said.
Robertson said any sentence imposed should be suspended in whole or in part.
Nikolic left the hearing room as the penalty was announced, refusing to comment, although it is understood he will appeal to the Victorian Civil and Administrative Tribunal.
The RAD disqualified Nikolic for two years on a charge under rules of racing dealing with improper conduct and one year for bringing racing into disrepute, the sentences to be served concurrently.
The disqualification means Nikolic cannot ride in races and is barred from entering licensed premises, including racecourses or stables.
It effectively means the jockey, who has endured a long battle with his weight, is unlikely to ride again.