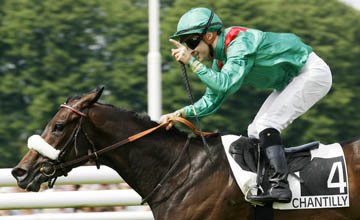 Sarafina: holding sway in Arc market as 9-2 favourite
PICTURE:
APRH
Bookmakers unsure who will start Arc favourite

BOOKMAKERS were on Saturday at odds over whether Sarafina would win her pre-race battle for favouritism with So You Think for Sunday's Qatar Prix De L'Arc De Triomphe, with the Alain de Royer-Dupre-trained four-year-old a best-priced 9-2 for Europe's richest race.
Coral spokesman Simon Clare said: "Patriotic support for Sarafina will see her start a much shorter price on the PMU but I can also see the British punters favouring her over So You Think."
However David Williams of Ladbrokes said: "It is impossible to confidently predict who will be sent off favourite for this year's Arc. Sarafina has been weak for the past 48 hours and if the big money arrives for So YouThink he could easily topple the filly at the front of the market."
The Arc field can expect "perfect ground", according to Longchamp clerk of the course Christian Delporte, speaking on the eve of the 90th renewal of the Qatar Prix de l'Arc de Triomphe.
"We did the main watering on Monday night, and have added more in some locations since," said Delporte. "They started today [Saturday] just on the soft side of good, and it should be perfect ground tomorrow."
Delporte went on to explain that Longchamp was subject to heavy layers of dew at this time of year, which would keep plenty of moisture in the ground.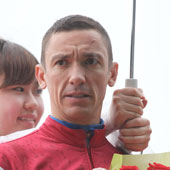 Frankie Dettori: called ground good
PICTURE:
Masakazu Takahashi
The variety of opinions expressed by jockeys on Saturday afternoon illustrated the difference in perception of going in France and Britain.
Thierry Jarnet and Stephane Pasquier both described the ground as soft after the first couple of races, while Frankie Dettori said it was good.
All of the Group 1 races bar the Prix du Cadran will be run on fresh ground, with the rail in the straight due to be moved back by 20 metres to its usual limit.