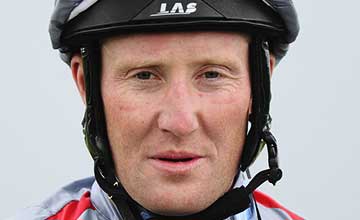 Pat Cosgrave: faces six months out
Cosgrave appeal to
be held on Monday

PAT COSGRAVE'S appeal against his six-month suspension for improper riding will be held on Monday, officials at the Emirates Racing Authority have confirmed.
Stewards in Dubai banned Cosgrave after he rode the Mike de Kock-trained Anaerobio to finish third in last month's Group 1 Jebel Hatta, in which the rider was adjudged to have moved his mount to allow stablemate Vercingetorix a clear run to victory.
The stewards noted Cosgrave, whose suspension has been reciprocated worldwide, "looked back to his inside on at least three occasions and at the turn into the home straight he intentionally allowed his mount to shift out approximately three horses thereby allowing stablemate Vercingetorix a clear inside run".
Cosgrave has appealed and his case will be heard at 10am on Monday at the ERA's offices in Dubai.
Cosgrave, a regular rider in Dubai over the winter, won the Nunthorpe on the popular Borderlescott in 2008 and followed that with other top-level victories on Markab in the Sprint Cup (2010) and Society Rock in the Golden Jubilee Stakes (2011).