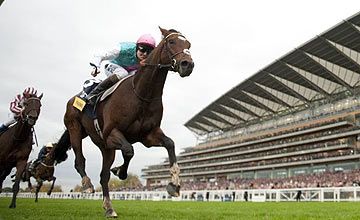 Frankel: Champion Stakes victory in soft ground was a high point in career
PICTURE:
Edward Whitaker (racingpost.com/photos)
Frankel confirms he's the best in Champion Stakes

WORLD CLASS: an analysis of the international scene according to Racing Post Ratings
For Frankel it was proof he could handle anything, for Cirrus Des Aigles it showed he could soar with a legend. It might have been muddy and it might have been tense, but the Champion Stakes was a high point in the careers of both Frankel and Cirrus Des Aigles.

Any number of match-ups had been mooted for Frankel this year. Black Caviar and Camelot were high on the list, while some Americans fancied Wise Dan to make him run. But the toughest test in 2012 would be to face Cirrus Des Aigles on soft ground.

The French gelding had won his last four starts on soft or heavy by eight, ten, eight and nine lengths. He is perfectly suited to testing conditions. He doesn't have a turn-of-foot, but boy can he grind. He doesn't stop for anything. Just keeps on keeping on.

He arrived on the back of a career best effort in the Prix Dollar - an effortless nine-length win - and given that he usually comes on for a run, even better was expected at Ascot. He won last year's Champion Stakes and looked primed for a huge run this time. A huge second-place run.

Frankel was made to work in the bad ground, but this was the test which showed whether or not variables could get him beaten. If he could beat the second best horse in the world, who arrived in top form and had everything in his favour, then he would prove he was untouchable. He did.

The horse that always won, won again. The Champions Series finale, the Champion Stakes, on Champions Day, and it was all about one horse. The triple champion. European champion at two and undisputed world champion at three and four.

With Excelebration giving a timely lift to his entire back catalogue of form by running away with the Queen Elizabeth II Stakes, the day was an all out celebration of the greatness of this one horse. It can't get any better from here. Or can it?

Perhaps a little better. News came last week that after columns and columns devoted to getting the best horse in America to run in the Breeders' Cup Classic, Wise Dan will instead run in the Mile. He is the best horse in the US on any surface, but connections believe he is better on turf.

The Mile looks a tougher race than the Classic this year, so it was a bold call, and one made to look even bolder after what Excelebration did on the weekend. So the situation is thus: the horse who has been beaten an average distance of 5.25 lengths by Frankel will take on the best horse in America on any surface... on his preferred surface.

The repercussions of this race are obvious for Frankel: he could conquer America by proxy. That once considered Breeders' Cup Classic trip seems suddenly unnecessary. If Excelebration can prove himself better than the very best in America then what does that do for Frankel?

This sort of extreme hierarchy has been part of the Frankel story all along. Excelebration could never come close to the top dog, but he has won all eight starts since his debut when he has not faced Frankel.

No match for Frankel, but he won three Group 1s. No match for Frankel, but he won a Group 2 by six-lengths. No match for Frankel, but he might have been champion miler in another time.

Beyond Frankel and Excelebration, the four-year-olds as a whole have proved a very strong crop, winning most of the open Group 1s in Europe this year and regularly beating the three-year-olds out of sight. They include Nathaniel, Moonlight Cloud, Danedream, Solemia and even Japan's top horse Orfevre. So there sits the king, atop a tree of unbelievable hierarchy.

Frankel only needed to run to 136+ on Saturday. The conditions were far from ideal, but he won all the same. Runner-up Cirrus Des Aigles, with perfect conditions and pushed by the best horse he's ever run against posted a career best RPR of 132. Nathaniel (127) ran to form.

Frankel answered the ground question on the weekend, but from a form point of view Excelebration's win in the QEII was perhaps even more important to his legacy.

Champions like Frankel needed horses like Excelebration to legitimise their legend. The Coolmore colt had always done a sterling job on this front, but it took until Saturday for him to show precisely how good he is.

When a horse is that inferior to another, the presumption is that there is a limit to his ability. But he quite clearly showed, when winning by a cosy three-lengths from Cityscape, that he would have been a true champion miler in another year.

He started his campaign with an easy win at the Curragh, then he was beaten five-lengths and 11-lengths by Frankel, then he won the Jacques Le Marois with something to spare, then ran away with the QEII. He's a very smart horse in his own right. He's just no match for Frankel.

In an early end-of-season shake-up Frankel's peak RPRs from the Queen Anne and International have been raised to 143.
TOP OF THE CLASS: Frankel 136 Sir Henry Cecil (GB) (Champion Stakes, Ascot, 1m2f, 20 Oct)

TOP LIST
| | | | |
| --- | --- | --- | --- |
| | Name (country trained) | Race | Rating |
| 1 | Frankel (GB) | Queen Anne/International | 143T |
| 2 | Cirrus Des Aigles (Fr) | Prix Dollar/Champion Stakes | 132T |
| 3 | Excelebration (Ire) | Queen Elizabeth II | 131T |
| 4 | Black Caviar (Aus) | Lightning Stakes | 130T |
| 5 | Hay List (Aus) | Newmarket Handicap | 129T |
| | Orfevre (Jap) | Takarazuka Kinen | 129T |
| 7 | Wise Dan (US) | Ben Ali/Stephen Foster | 128A/D |
| 8 | Camelot (Ire) | Derby | 127T |
| | I'll Have Another (US) | Preakness Stakes | 127D |
| | So You Think (Ire) | Tattersalls Gold Cup | 127T |
| | Nathaniel (GB) | Eclipse/King George | 127T |
| | Moonlight Cloud (Fr) | Prix Maurice de Gheest | 127T |
| | Dullahan (US) | Pacific Classic | 127A |
TOP TURF PERFORMERS
| | | | |
| --- | --- | --- | --- |
| | Name (country trained) | Race | Rating |
| 1 | Frankel (GB) | Queen Anne/International | 143 |
| 2 | Cirrus Des Aigles (Fr) | Prix Dollar/Champion Stakes | 132 |
| 3 | Excelebration (Ire) | Queen Elizabeth II | 131 |
| 4 | Black Caviar (Aus) | Lightning Stakes | 130 |
| 5 | Hay List (Aus) | Newmarket Handicap | 129 |
| | Orfevre (Jap) | Takarazuka Kinen | 129 |
| 7 | Camelot (Ire) | Derby | 127 |
| | So You Think (Ire) | Tattersalls Gold Cup | 127 |
| | Moonlight Cloud (Fr) | Prix Maurice de Gheest | 127 |
| | Nathaniel (GB) | Eclipse/King George | 127 |
| | Wise Dan (US) | Fourstardave Handicap | 127 |
TOP DIRT PERFORMERS
| | | | |
| --- | --- | --- | --- |
| | Name (country trained) | Race | Rating |
| 1 | Wise Dan (US) | Stephen Foster Hcap | 128 |
| 2 | I'll Have Another (US) | Preakness Stakes | 127 |
| 3 | Bodemeister (US) | Arkansas/Preakness | 126 |
| | Caleb's Posse (US) | Met Mile | 126 |
| 5 | Amazombie (US) | Churchill Downs | 125 |
| | Fort Larned (US) | Whitney Handicap | 125 |
| | Game On Dude (US) | Awesome Again | 125 |
| 8 | Ron The Greek (US) | Stephen Foster Hcap | 124 |
| | Shackleford (US) | Met Mile | 124 |
| | Successful Dan (US) | Alysheba Stakes | 124 |
TOP ALL-WEATHER PERFORMERS
| | | | |
| --- | --- | --- | --- |
| | Name (country trained) | Race | Rating |
| 1 | Wise Dan (US) | Ben Ali | 128 |
| 2 | Dullahan (US) | Pacific Classic | 127 |
| 3 | Monterosso (UAE) | Dubai World Cup | 126 |
| 4 | Amazombie (US) | Bing Crosby Handicap | 125 |
| | Game On Dude (US) | Hollywood Gold Cup | 125 |
| 6 | Camp Victory (US) | Triple Bend Hcap | 124 |
| 7 | Krypton Factor (BHR) | Golden Shaheen | 123 |
| 8 | Musir (SAF) | Maktoum Challenge R1 | 122 |
| | Colour Vision (GB) | Sagaro Stakes | 122 |
| | The Factor (US) | Triple Bend Hcap | 122 |