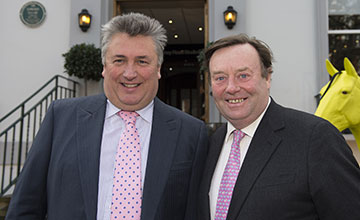 Paul Nicholls and Nicky Henderson: united against watering at Cheltenham
PICTURE:
Edward Whitaker (racingpost.com/photos)
Henderson and Nicholls: leave the ground as it is
NICKY HENDERSON and Paul Nicholls have issued a plea to Cheltenham's clerk of the course Simon Claisse not to water the track for the four biggest days in the jump racing calendar.
Drying conditions have raised the possibility that the track may need to be watered to prevent the ground becoming too quick, particularly on the New course which is being used on Thursday and Friday.
The two top trainers were speaking at a forum after racing at Sandown on Saturday but by then Claisse had already moved to allay similar fears expressed by another trainer, Keith Reveley.
Henderson said: "I do sincerely hope they don't water, it would be a tragedy. You have got to let nature take its course. If nature says it's good ground, let them run on good ground and let the good-ground horses get their opportunity.
"Why should the good- ground horses be penalised just because they want to slow it down? It's wrong."
Nicholls told the forum of a lengthy discussion with Claisse on Friday night. He said: "I spoke to Simon at length and I know he is worried it might dry up.
"Simon's concern is the track might get quicker by Thursday and Friday and whether he should water this weekend to make sure it doesn't. It's a gamble to take and it has been so wet."
The ground was altered slightly to good to soft after another drying day at Cheltenham on Saturday.
Claisse removed soft in places from the going description and said: "We'll monitor the situation on the New course depending on the rate at which that course dries out.
"I said to several trainers yesterday that our record of doing what we need to do to ensure safe ground over the years has been pretty good."
The going on the cross-country course was given on Saturday as good to soft, soft in places.